ModernCamaro.com Founder / Former Camaro Disciple
Join Date: Jan 2006
Location: Chicagoland, IL
Posts: 11,835
LIVE webchat with Camaro Team from Chicago - Tomorrow 3PM
---
Tune in tomorrow at 3:00PM as ModernCamaro.com brings you a LIVE webchat with the Camaro Team from the Chicago Auto Show!
The LIVE webchat will be at this link:
http://www.moderncamaro.com/index.php?page=chevywebchat
Go there and enter your email address now if you'd like a reminder!
Chat LIVE with Al Oppenheiser, Camaro Vehicle Lead Engineer and John Fitzpatrick, Marketing Manager - Chevrolet Performance Vehicles
What will be unveiled at Chicago?
Well, we're not sure yet, but stay tuned to find out!
Oooooooooooo!
---
"All alone in my funeral home, playing in blood, there's just got to be something wrong with me" -Slayer-
some websites right now just don't know how RRRRRRRR WRONG they are. I can't wait.
---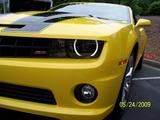 2010 Camaro RS SS LS3 (Bumble Bee) Vin#192 & 8 others made by GM and one Christine