COPO Camaro Vs. Mustang Cobra Jet at Indy-WOW!
---
All I gotta say is WOW!!
Car's got ups!
---
2010 Stock IBM 2SS/RS
I found $80 in my jeans pocket. The kid in me said "buy nerf guns and candy!" But then the adult in me said "buy vodka, nerf guns and candy!"
Newbie
Join Date: Sep 2012
Posts: 6
ha, i like how the ad that pops up in the vid is "Choose Dodge Challanger"
Quote:
ha, i like how the ad that pops up in the vid is "Choose Dodge Challanger"
A chevrolet ad popped up when I played it again
Now this is one I was waiting to see
---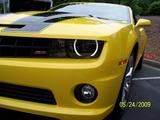 2010 Camaro RS SS LS3 (Bumble Bee) Vin#192 & 8 others made by GM and one Christine
OMG... YES FOR THE COPO.. man that thing is moving even after that air time!!!!
---
2011 camaro 2ss convert..black on black. Slp black wing intake, k&n drop in , muffler delete , 93 octane diablo tune L99/A6. totaled 12-4-13..

2014 camaro 2ss 1LE. best car yet!!!!
So who makes a 5th Gen Wheelie bar?
---
IBM RS/SS: Vortech V3 (7.5lbs/boost) Trinity/Dyno Tune/Texas Speed LT w/Magnaflow Comp MGW Shifter/Tint/Heritage Grill/AVIC Z120 Orion Sub & Amp/Bravado Wheels (20 x9.5/11) Just fast enough ... for now!
赤い 竜
Join Date: Jul 2011
Posts: 1,381
Just saw it on my iphone...WOW is right. He'd have an even faster time if he didn't have to contend with the wheelies.
---
Nancy..........2017 ZL1, M6, NPP - Red Dragon....aka Chaos
Previous rides: 2011 2SS M6, 2013 Hotwheels RS-A6, 2015 1SS/1LE M6, 2016 2SS-A8
Premium Member
Join Date: Aug 2008
Location: Pennsylvania
Posts: 5,994
That thing's NUTS! WOW!
---
James 1:25 Ordered from Faulkner Chevy #NKCF02 1100 5/8/9 2000, 3300 7/16/9 TPW 7/20,GOT MY (low) VIN! 4000 7/24/9 ,Picked up 8/7/9!!! Signed Litho #45. Car signed by FBodfather 2011. Service: Jennings Chevy in PA. We don't "drift", kiddies... we
POWER SLIDE!
MOTM/COTM Sept 2012
Pro Patria Vigilans
.
Click the pic..