Movie: Better Off Dead
---
Anyone remember this movie? It is still a favorite of mine all these years.
Not just because of the sweet black RS/SS that starred in the film either.
Here is a website all about the movie car:
http://www.betteroffdeadcamaro.com/
I exchanged emails with the owner a few years back while we were working on our '67. It is a nice website with quite a few details about the car.
I thought you guys would enjoy it
Join Date: Jan 2006
Posts: 863
Senior Member
Join Date: Mar 2006
Location: Dixon IL
Posts: 861
it is a good read very intresting!
"I want my Two Dollars"
Senior Member
Join Date: Mar 2006
Location: Dixon IL
Posts: 861
Quote:
Originally Posted by
Gonna be a 5th gen owner
View Post
what 2 bucks?
Go rent the movie...
ModernCamaro.com Founder / Former Camaro Disciple
Join Date: Jan 2006
Location: Chicagoland, IL
Posts: 11,842
I've never seen it.
Maybe I oughtta downlo... er, I mean... rent it.
French fries..
French Toast
French Bread.........
---
1994 Z28
Autobot
I would like to thank the person that came up with these fine avatar and signature's.

i have it on vhs, and i keep it at the part of when they roll the camaro out of the garage. must say ricky is a stud
---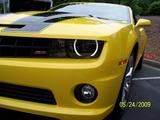 2010 Camaro RS SS LS3 (Bumble Bee) Vin#192 & 8 others made by GM and one Christine
Join Date: Oct 2007
Posts: 2
"Go zat vay really really fast; if somesing gets in your way....turn"