Join Date: Sep 2008
Posts: 2
Mystery Time! Any help would be AMAZING!
---
Hey guys (and gals?), I am new to the forum, and i have a real stump. I work at O'reilly Auto parts in Nebraska, and a couple of days ago I had a customer come in with some real stumping questions.
He purchased a 71 (maybe 72? cant quite remember.) camaro, and it has the badge of the 350/400 small block... The lady he purchased it from said she had bought it brand new off the lot for her son when he started medical school, and later her two daughters owned it at one point or another. He purchased it thinking to restore it, and heard there had never been any engine work done - But to his surpise when he opened up the block to clean it, it looked nothing like the 350/400 sm. block engines, and after doing some rough math of the bore it came out to be aproximately the same cubic inches of the 427 sm. block (which he had only seen ONE in his life, in a state troop car, which they did aproximately between 64-67 somewhere, or so i have heard)
What are the chances that during the strikes they may have slapped in on of those old troop engines trying to push them off the lines? (original calking is still on the motor mounts.)
ANY INFORMATION WOULD BE GREAT! I will possibly have the block stampings come tomorrow evening.
cant help on the question but WELCOME to the site
---
Quote:
Facebook has sucked me into Farmtown.

What can I say I love virtual plowing.
Join Date: Sep 2008
Posts: 2
Any chance you would be able to point me in any directions? This guy has me curious/anxious! haha...
Quote:
Any chance you would be able to point me in any directions? This guy has me curious/anxious! haha...
wish i could but i haven't been DEEPLY in to camaros for that long but i can tell you almost everything there is to know on the 2009 camaro
g/l
---
Quote:
Facebook has sucked me into Farmtown.

What can I say I love virtual plowing.
Join Date: Jan 2008
Posts: 32
I think this guy probably measured the displacement incorrectly. And by the way, just having the bore will not tell you the size of the engine. Aside from that, GM never made a 427 small block, well, at least not until the introduction of the LS7 in the lates C6 Z06 Corvette.

Now, I'm sure somebody will/could come up with a theory about how a rogue machinist in GM's engine plant bored out some SB 400's to be 427 cubic inches or something like that, but this would simply be a fun story. In fact, I seriously doubt you can bore a factory GM 400 small block that much without the walls being paper thin.

There are a number of GenI 427 small blocks built these days by guys like Bill Mitchell, Dart, etc., but these are all aftermarket companies that have started doing this within the last, oh, say 10-15 years by casting their own new blocks. But again, my bet is that the guy just doesn't know how to measure displacement.

I will stand corrected if someone has documented proof, but I'm pretty sure that won't be necessary.
---
Last edited by jknight16; 09-16-2008 at

03:36 PM

.
Senior Member
Join Date: Sep 2007
Location: Canton Mi.
Posts: 523
yeah the only 427 was a big block back then and they were mostly in impalas/chevelles unless you have an extremely rare camaro 427 c.o.p.o. car from baldwin motion or yenko these cars if still original would be easily identifiable by radical striping and tall hoods

if it is a small block engine the badging probally is a sticker on the air cleaner meaning 350 hp / 400 cu in and most likely the engine came out of a truck.

happy hunting, hope i helped
---
just another guy dreaming of owning a 09 camaro
WWW.MYSPACE.COM/BDCNDE
The most common thing I've seen donbe with the 400 is destroking it.

I went to the camaro white book to see if anything was offered larger than the 396 in the 70-74 camaros. The only engines it shows is the 307, 350, and 396 for V8s. There is a sentence" Though planned, 230ci 6-cylinder and 454ci V8 engines were not installed in 1970 camaros for sale to the public." With that said I wouldn't rule any combination out that eventually could have wound up in someones hands.
---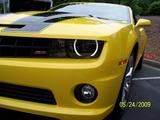 2010 Camaro RS SS LS3 (Bumble Bee) Vin#192 & 8 others made by GM and one Christine
If he is able to measure the bore, he should be able to read the casting numbers on the engine block. He can use the numbers to determine the size of the motor.
with out the VIN# or the block # it will be hard to determin what was put in, there are many sites that will help decode the vin and what as put in. If it truley is a family owned car then looking under or behind the back seat might reveal the build sheet, i dont remember where else they hid it. It will even tell you the rear gear size. hope this might help
---
1969 SS327 at 16 started a lifetime love affair
Join Date: Jan 2009
Posts: 176
Didn't the early SBC 400 have a oval bore? Block and date codes are the fool proof way to tell what ya got.