My first gen
---
370 hp crate motor 342 posi rear turbo 350 trans flowmaster exhaust system 92 k original miles still have the original 327 in the garage, had it 14 years got engaged in it, ( this way shell never ask me to sell it)
this one is for keeps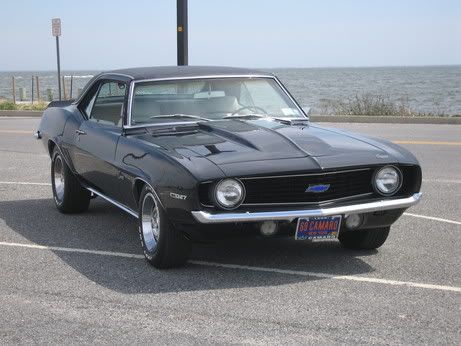 ---

Veteran Member
Join Date: May 2008
Location: Windsor
Posts: 4,533
That is beautiful. I'm hoping to have one of these of my own in a few years. Nice way to keep the car. Get engaged in it. I must give it to you, that was pretty smart!
---
┌∩┐(◣_◢)┌∩┐
Veteran Member
Join Date: Oct 2008
Location: Wetumpka, Alabama
Posts: 8,645
that is one sweet ride
---
2014 2LT/RS with spring edition package. Proud Litho Owner #28.
Senior Member
Join Date: Sep 2007
Location: Canton Mi.
Posts: 523
nice niner bro, i got one too its red like everyone elses thinking about painting it orginal scheme burnished brown w/white d90 (hockey stripe) black vinyl topl

i think its an original bb car it was raked high in the front and had a bb heater core. but its been changed over to a sb now.
---
just another guy dreaming of owning a 09 camaro
WWW.MYSPACE.COM/BDCNDE
First Gens suck
BeAuTiFuL cAr !!!!!!!!!!!!!!!!!! Nothing like a First Gen Camaro as I have always said since buying one myself.
Thanks for all the nice comments now I have to figure out how to get 10 camaro to match
---

first off NICEEEEEEE
second off very smart
third off your car sounds great... and (im guessing your wife) who was recording the video breaths heavily
---
Quote:
Facebook has sucked me into Farmtown.

What can I say I love virtual plowing.