Stripes getting done... like the look or not?
---
What do you all think about this?
Okay, I have been informed by many that I am extremely lucky to have a 100% rust free Thirdgen in the Midwest, there aren't too many around that are. Even behind the rear bumper, there is no rust, so with that in mind, mine is a good cantidate to be restored.
It started life as a dark teal, 1992 Camaro RS built in Van Nuys, California in November of 1991. It was purchased from a dealership in Clear Water, Florida in early 1992 by the original owner who kept the car up well and had it for 12 years. I am the fourth owner of the car.
It needs paint pretty badly, it is currently a bright teal color. The jambs show the original color and are much darker than the rest of the paint on the car. So the car is getting painted the much more visually appealing dark teal is was originally, and now I am wanting to put stripes along the bottom of the car.
My buddies '92 RS has them and I like the look. His car is grey with white and red stripes and a 5-speed.
I taped out the stripes on the car with duct tape just to get an idea of what it would look like, took pictures and then took the tape off. The stripes would be the color of the interior, light grey and medium grey. They will be about 1.25 inches tall, and go around the car completely.
The tape is a little taller than how tall the stripes will be, but you get the idea. What do you all think? I really think it adds a nice finishing effect to the car. Keep in mind that the car is going to be a darker teal, and the rims are getting redone, so it will look very nice.
So it gets a new nose, chin, grill, new park lamps, tail lamps, badges, light tint, new weatherstripping and professionally refinished rims and centercaps.
Here's my buddies car, my stripes with be the same, except a light grey/dark grey combo.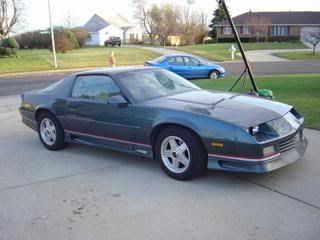 This is the taped off idea of what mine would look like: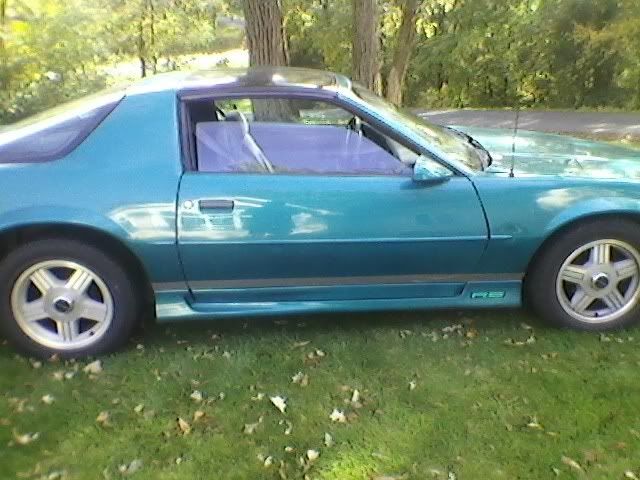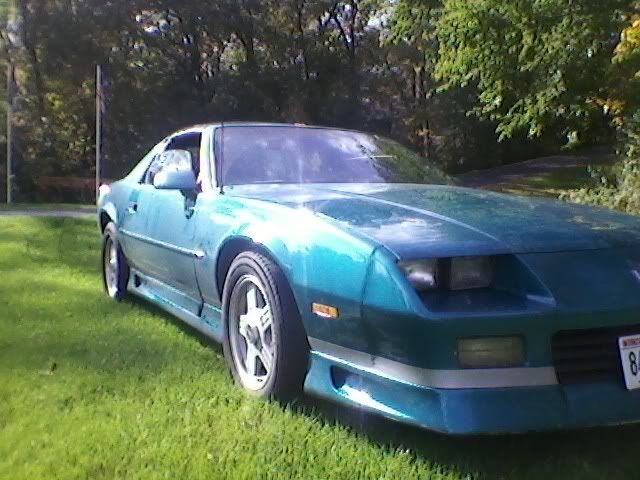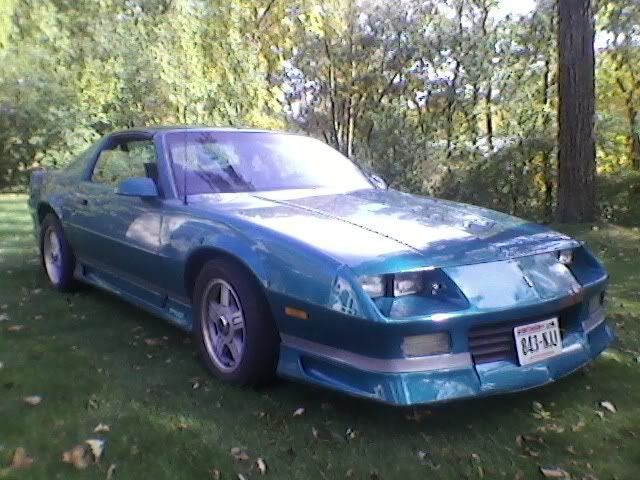 I really think that it gives the car a more "80's Thirdgen" look.
Here's a pic of the refinished rims...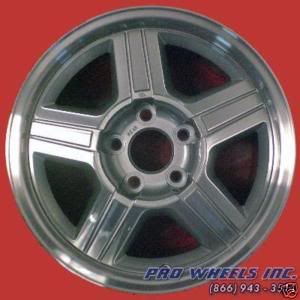 Also, next year, new seats, carpet, dash pad and other interior components, sound deadening materials, top end motor rebuild (has a lifter tick, bottom end is fine), headers, chip, T-5 swap, 3.08 non-posi swap, 7" DVD head unit, new speakers, and boomtube getting installed as well. Also putting in a keyless alarm. Total restoration will be around $6-7k for me, but I think it's worth it. Should be beautiful and be show car nice when it's done!
---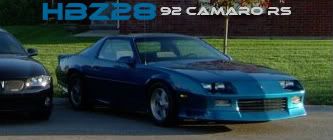 ---
Last edited by HBZ28; 10-12-2009 at

09:48 AM

.
Looks very nice to me. Please post pics when done.
Capt Bob-Supporting Membr
Join Date: Oct 2006
Location: Columbia, SC/ Middle East
Posts: 366
Looks great. I've got a set of matching hood stripes if you are interested. They're original GM silver, just like the factory installed.
---
Lionel Trains- "A lifetime of Happiness"
New to computers and forums, but a Camaro and Firebird enthusiast/owner for 30 years.
68 RS/SS 4spd A/C Convert-USA FUN, Owned since 1978.
92 Z28 25th Anniversary 350-RSKY BZ,
91 Z28 Convertible-OPENZ (gone but not forgotten)
02 Blackbird WS-6 Convertible- SR-71
<<<< Yes, click- View My FQuick Garage
Thanks! I love the look... it adds a lot to the car, I think. There are quite a few teal Thirdgens out there... I think doing the stripes will make mine different from the rest.
---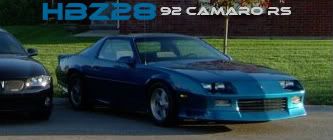 to each his own, but when i restored a 90 iroc a few years ago i left the side stripes off. I really dont like them much.
---
~Travis~
90 RS-383HSR, T56, NX wet kit
01 LB7 Chevy 2500 4x4. Programmer, 3" lift on 35s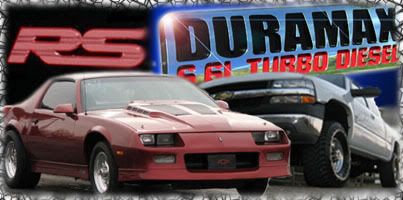 I don't want to hiack this thread but I'm wondering something.

1.) Why do you want to restore a car that makes girls puke? Aren't you worried about puke getting on your seats and carpet?

2.) 3.08 non posi + T5... WTF?

3.) I don't like the stripes.
Quote:
2.) 3.08 non posi + T5... WTF?
I was wondering the same myself? 3.08 and a non posi? Dude you need 3.23's at least with the T-5 and posi for sure.
As for the stripes, they don't look bad to me but I think the clean sides of the car look better.
---
2000 Red 1SC Z28 A4 - dead for now
2005 Black GTO M6 6.0 - Split daily driver
1987 Silver Fiero GT - Split daily driver
Posi is a must have in any camaro whether is has a 305 or 502.
Actually... I'm looking into a 305tpi for it. $700 and I'm done. Don't have to change the harness or the fuel pump. Should be an easy swap for 230bhp.
---