Join Date: Jul 2007
Posts: 7
My 1985 Iroc~z
---
I love the color and those grid tail lights are my favorite.
---
1998 Camaro A4 7.06 @ 96.5 MPH NA 1.47 best 60ft
2010 Camaro Tube Chassis work in progress
ModernCamaro.com Founder / Former Camaro Disciple
Join Date: Jan 2006
Location: Chicagoland, IL
Posts: 11,842
Good looking car! I love IROCs.
ok, you just made me sick. That car is on my top 10 list of cars I plan own buying. Since I first saw the blue IROCs I was in love.
---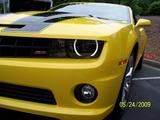 2010 Camaro RS SS LS3 (Bumble Bee) Vin#192 & 8 others made by GM and one Christine
Join Date: Jul 2007
Posts: 7
---
haha im glad you guys in enjoy my car as much as i do
Join Date: Dec 2006
Posts: 57
nice looking car dude, I was at a local resto shop today and they are doing a full respray of a blue Iroc just like yours, was good to see someone putting some time into one to make it nice again.
How the hell did I miss this thread - Very nice Camaro.
It is pretty rare to see a 1985 Z28 in nice shape around here, most are beat to death. Especially that blue color - that was my favorite by far back in the day
Great ride
Join Date: Aug 2006
Posts: 101
---
Nice 'ROC!
Join Date: Sep 2007
Posts: 49