Join Date: Jan 2008
Posts: 26
My '88 Formula...
---
Here is my '88 Firebird Formula. The original (I think) 305 blew itself to **** a while back, so it became my garage art for a while. Now I have a 350 TBI for it that I'm building into a 383 stroker with all new performance parts.
By the way, it's nice to see that there are plenty of other third gen owner's on this forum as well.
Nice ride
---
1998 Camaro A4 7.06 @ 96.5 MPH NA 1.47 best 60ft
2010 Camaro Tube Chassis work in progress
ModernCamaro.com Founder / Former Camaro Disciple
Join Date: Jan 2006
Location: Chicagoland, IL
Posts: 11,842
Sweet
Join Date: Sep 2007
Posts: 49
My brother has one but not as nice as yours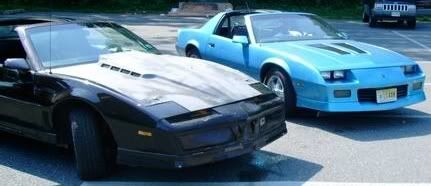 Nice 3rd Gen!
---
2000 Red 1SC Z28 A4 - dead for now
2005 Black GTO M6 6.0 - Split daily driver
1987 Silver Fiero GT - Split daily driver
sweet looking man sweet
---
1994 Z28
Autobot
I would like to thank the person that came up with these fine avatar and signature's.

Nice. I always liked the Formulas better than the T/A's. Formulas were understated, but still a badass without all the Trans Am advertising.
---
Bob Lutz: "There's no doubt that a design-driven philosophy is the only one that will work. People who are not sensitive to design, people who don't care about vehicles, people who view a vehicle as an appliance, they just default to Toyota. We will never win that one."
Join Date: Dec 2007
Posts: 43
My dd 89 RS has 207,xxx on the original 305. I think it want's to live forever.
---
1967 RS/SS clone - 454/TH400/4.10 12 bolt, PW, PS, PDB, Comfortilt, K-K + 797 & lots more options...
1998 Z28 - LS1/M6/3.42 - DD
2002 Z28 - LS1/A4/3400 stall/3.73 - too many mods
2010 SS vert - soon.....