3rd gen bumblebee
---
well with the 5th coming out as a bumble bee, and the show with a 74 doing bumblebee, here is a rendition of the combo stripe of 2009 and 80s, on a z28 plateform, pictures here. The car has all yellow gauge work, all logos are custom done to be yellow and black only, including nose cone tri badge is all yellow. The front pillars to windshield are black to match t tops, Tail lights are blacked out using art vinyl to similar of pontiac transam black effect, the front signals are also blacked out, the headlight buckets are black with black back head lights and halogen centers. Interior seats not yet done, will be all yellow and black inside when done. Car was a Craigslist 300 buy, now is worth driving, hope you enjoy my version, at the time 2009 is coming out. cg
Welcome to the site.

My 199 as white with blue and then black ground effects.

Old patrol car.
---
2005 CTSV BLACK LS7 Clutch/Flywheel/Slave, Tick Speed Bleeder, Tilton Clutch MC, RevShift Bushings, Domestic V8 Solutions (shifter, 8.8 Diff conversion, srut tower braces, sub-frame connectors), SLP cats, no cags, xpipe, bullet mufflers, Volante, iPod dock, G-force tune; 379hp 381tq.

Killing 5th gens like it is my job.
Not bad...not a fan of yellow but still cool.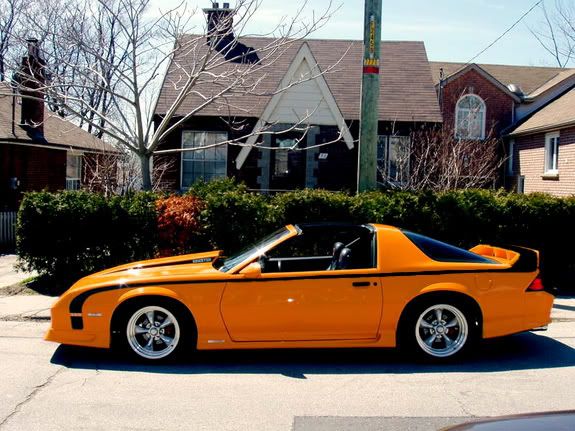 I found this one awhile ago... sweet ride. Kinda Bumblebee-ish.
---