Join Date: Mar 2006
Posts: 572
ModernCamaro.com Founder / Former Camaro Disciple
Join Date: Jan 2006
Location: Chicagoland, IL
Posts: 11,842
Sweet pics!!! Very nice job
Join Date: May 2006
Posts: 313
such cool photos!

They truly capture that design's sleek futuristic and clean design!
NICE!!!!
---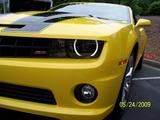 2010 Camaro RS SS LS3 (Bumble Bee) Vin#192 & 8 others made by GM and one Christine
Join Date: Jan 2007
Posts: 112
awsome pics and nice car!
---
1994 Z28
Autobot
I would like to thank the person that came up with these fine avatar and signature's.

Join Date: Apr 2007
Posts: 5
Very nice bro.. love it..