Join Date: Aug 2007
Posts: 332
12 BOLT INFO
---
Does any one hear have in info on a 12 bolt for a 4th gen.
I want to get a idea of how much they cost.
Is any one here runing one or a 9inch how much power have u guys lost with the swap.
I have the strange dana 60 in the Formula and here is why

Strange Engineering
Strange S60 Dana Rear End
F-Body Dana Rear End Features:

25lbs heavier than a 12 bolt, 10lbs heavier than a 9"
Standard True-Track Diff w/Power-Lock
35 Spline Posi
All new casting using 3.0" OD Tubing, 1/4" Thick
Large ring gear than 12 bolt (by 0.875) and 9" (by 0.75)
Standard Dana Gear can handle 1200RWHP
Many Gear Options
LT1 build in mounts - LS1 requires backing plates to be sent in!
Driveshaft will need to be shortened 1.625" (don't do this a strange chromemoly isn't that expensive)



PRS60T Strange Dana S60, True Track, 35 spline, Chrome Cover,Choose Gear Ratio $2295.99 buy
PRS60S Strange Dana S60, Spool, Hy-Tuf Axles, Chrome Cover,Choose Gear Ratio, 35 or 40 Spline $2049.99 buy
PRS60C Strange Aluminum Cover Upgrade $60.00 buy
GMBBP GM Backing Plates (no need to send core) $240.00 buy

--------------------------------------------------------------------------------

I went through ron @ vengance racing

Numbers published by Evan Smith in National Dragster show that because of the reduced offset between the pinion shaft axis and the axle centerline, the Dana 60 has lower drivetrain losses than either the 12-bolt or the 9-inch:

Dana 60: 5%
GM 12-Bolt: 7%
Ford 9-inch: 10%


I went with the spool.
---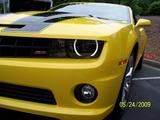 2010 Camaro RS SS LS3 (Bumble Bee) Vin#192 & 8 others made by GM and one Christine
P.S. At the drag strip I saw no loss in et
---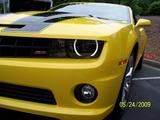 2010 Camaro RS SS LS3 (Bumble Bee) Vin#192 & 8 others made by GM and one Christine
Join Date: Aug 2007
Posts: 332
Quote:
P.S. At the drag strip I saw no loss in et
Ok the car is a six speed and it is a daily driver. The car goes to the track with ET streets on it every other week. Would that rear end be good under those driving conditions?
I think my Moser 12 bolt was around 2k but I don't remember for sure.
---
1998 Camaro A4 7.06 @ 96.5 MPH NA 1.47 best 60ft
2010 Camaro Tube Chassis work in progress
Yes it would. I wouldn't recomend a spool for the street, but I have known many people to drive cars on the streets with a spool or welded spider gears.

If I remember right you can have traction control & abs with the dana. I think the 9" limits you on that. If you visit LS1tech look in the sponser section where they post up deals. At the time vengance racing was having a sale for ls1tech. It was a few hundred dollars cheaper than going to strange direct plus I was able to get some other questions I had answered.

FYI the rear was an exact fit, I had no problems getting it in. They even sent high energy bushings for the rear sway bar with new bolts. The only problem I has was the differential cover gasket leaked. I changed that and it hasn't leaked a drop since.You have to get a drive shaft and its not a bad idea. I've seen a few stock aluminums twist in half, so don't even bother with getting it shortened. I went with the strange driveshaft. It aslo came completely assembled ready to go in. Some other companies tell you that you have to get the universal joints and have them pressed in, so watch that also.
---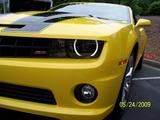 2010 Camaro RS SS LS3 (Bumble Bee) Vin#192 & 8 others made by GM and one Christine
9" here Moser 9 with nodular centersection. All together I think I have like 2100 in mine. Easy bolt in. Moser 9", Moser 33 spline axles, Detroit locker, 4.11 gear. No ABS, No TCS or options for it. 12 bolts are lighter but with the torque arm setup much weaker. Didn't notice any power loss at all however I did do alot of mods at the same time as well as switch from a 2.73 to a 4.11.
---
2000 Red 1SC Z28 A4 - dead for now
2005 Black GTO M6 6.0 - Split daily driver
1987 Silver Fiero GT - Split daily driver
Join Date: Nov 2007
Posts: 36
My Moser 12 Bolt with all the boxes marked would have cost me about $2500, but I had a buddy that had a dealer licence with them, I paid $1700, with all the bells and whistles.
Join Date: Jan 2008
Posts: 269
12 Bolt
---
<~~~~~~ In that car
I run a Moser Engineering 9" w/Moser 33 Spline Axles 4.11 gears & Moser Spool. Weld Drag Lites, 28x10.5x15 M/T ET Drags. I have a custom made balanced steel driveshaft w/TH400 trans w/Tbrake. I dont know the HP losses but sounds like the guy a few posts above knows what he is talking about! Im a Moser Dealer and just got my 2009 pricebook and catalog last week if you need a quote on one. Good Luck!! Both companies make really good quality components!
---
Last edited by lackomotorsportsllc; 01-19-2009 at

02:03 PM

. Reason: add