new dyno numbers
---
ok got my first dyno tune and was hopin for abit better but like a buddy of mine said no headers is hurtin me reallin bad. the best i got after 4 or 5 pulls was 317.24 RWHP 328.33 RWTQ
car was runnin hella rich and thankfully nick fixed that and also adjusted my shift points so my car actually shifts better now and my gas mileage went up . . . i can now cruise at 70 without losing mileage
headers will improve my numbers definately i'll be postin up the video later today thanks again nick!!!! mods are in sig
---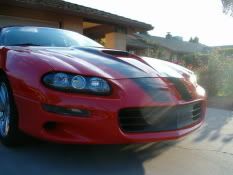 2000 Hard Top SS A4, #867, new set-up: poly uretheyne bushings, LS1 intake, ported TB, SLP Lid, SLP Smooth Bellows, Pacesetter LT's with Pacesetter Y pipe and stock exhaust, Eibach springs with custom shocks and an adjustable panhard bar by Sam Strano
new numbers: ??? RWHP ??? RWTQ
nice!!!
---

*A Cars Only Purpose Is To Get From Point A to B. I Just Rather Get There In 13.2 @ 106
* Going Mustang Hunting... Be Back In 12 Seconds
www.fquick.com/Naute
<---- That's Me
http://fn-fasttown.myminicity.com
Join Date: Mar 2006
Posts: 572
Headers will help for sure.
---
1998 Camaro A4 7.06 @ 96.5 MPH NA 1.47 best 60ft
2010 Camaro Tube Chassis work in progress
ModernCamaro.com Founder / Former Camaro Disciple
Join Date: Jan 2006
Location: Chicagoland, IL
Posts: 11,842
Good numbers!
Yup, headers will help quite a bit.
Not bad at all from an auto with just a couple of bolt ons. Headers will definately increase it. I wouldn't fret the #s too much though especially with an auto. put a stall in it and you can kiss dyno numbers goodbye but say hello to real timeslips.
---
2000 Red 1SC Z28 A4 - dead for now
2005 Black GTO M6 6.0 - Split daily driver
1987 Silver Fiero GT - Split daily driver
Adding LT's, TD's, deleting the cats and a dyno tune netted me 343rwhp & 357rwt on my 02 Z28. So far I've turned a best 13.1 @ 107. Next up is a TC.
---
1967 RS/SS clone - 454/TH400/4.10 12 bolt, PW, PS, PDB, Comfortilt, K-K + 797 & lots more options...
1998 Z28 - LS1/M6/3.42 - DD
2002 Z28 - LS1/A4/3400 stall/3.73 - too many mods
2010 SS vert - soon.....
Join Date: Jan 2008
Posts: 55
Nice car. My wife's car is a 2001 Red SS hardtop..
Newbie
Join Date: May 2007
Posts: 1
Quote:
Nice car. My wife's car is a 2001 Red SS hardtop..
is that car in the background a GN?