Newbie
Join Date: Jun 2014
Location: Spruce Pine, N.C.
Posts: 3
3800 Series II transmission for swap
---
Hello everyone! This is my first post here, just registered as I've already been reading tons of info on here...
I own a 96 Camaro with 3800 engine, 4L60E trans, everything is stock. I am going to swap the engine for an LT1, and I have some questions... First off, if my car has a 4L60E engine, and the LT1 car has the same, why can't I use my transmission? Are the bell housings different? If so, can I just swap out bellhousings? Reason that I ask is because the parts car (96' Camaro Z28, auto) has a trashed transmission and rear end (crashed from rear, trans cracked at U/V joint, but LT1 engine is perfect and has low miles).
I read that these cars use same trans, but also read how other people doing this swap are swapping transmissions as well.
Next on the list, will I need the front suspension from the Z28? What about the rear? I want to keep my rear as I just installed a new set of Kayaba's on my 3800 car and LOVE the way it handles and rides now.
As far as my rear end goes, it is EXTREMELY high geared, and absolutely kills it's power (I think it's a 2.73) - I am wanting to switch to something in the 3.42 - 3.73 range (sorry if numbers are wrong, I'm a gunsmith, not a mechanic lol)... can I switch out internals (gears, etc) with lower-geared units, or do I need to swap out the entire assembly? I rarely drive on the interstate, mostly driving at 35 - 60 mph. Don't want to go too low and lose my fuel economy, but I definitely need to wake her up!
Thanks in advance for ALL the suggestions and help! Also, please don't suggest that I simply just buy a V8 car - this 96 of mine has sentimental value - a recently lost family member bought me my "dream car", and I really want to transform it into my "fast dream car"
It's should bolt right up. I don't know of any reason it won't work. On the rear end the door rpo codes will tell you the gear in the rear. V6 cars did have a 3.08 option, but I think that code was y87. A 3.73 swap is about the norm for an auto and someone like summit should have the gear set.
---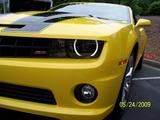 2010 Camaro RS SS LS3 (Bumble Bee) Vin#192 & 8 others made by GM and one Christine
Newbie
Join Date: Jun 2014
Location: Spruce Pine, N.C.
Posts: 3
Thanks for the help, but I just found out (from someone who's performed this exact swap) that it won't work. Even though the 3800 and LT1 both use the 4L60E, they have different bolt patterns, and from what I understand, the bell housings cannot be swapped. Looks like I'm going to be looking for a LT1
with
matching auto trans! Just my luck.
I reckon I'll sell my current ones, so I'll be selling a very clean 96' 3800 engine with auto transmission along with all relative wiring harnesses... Engine/trans as 89,300 miles on it, and has never been modified or rebuilt (other than a cat-back exhaust and cold air intake). She purrs like a kitten and runs very strong for a little V6.
What do you guys think I should ask for it? I know it won't be as much as I'd like, but, supply and demand I suppose...
Ultimately, I just want to be able to "play" with this car... It's my everyday driver, and has extreme sentimental value; otherwise I'd just buy a V8 car outright. My first idea was forced induction, since you can buy a GM L36 blower for extremely cheap, and would boost me up to appx. 280 - 290 hp... Exactly where I wanted it (target is around 300hp, but the more, the better!). Unfortunately, I found that that blower won't work on Camaro/Firebird 3.8's without some serious machine work modification, which I could easily perform myself (I'm a gunsmith), but don't have machining equipment large enough to take an intake manifold
Next idea was turbo. Unless I completely missed something, I never found a turbo system that would work on a 3.8 that costed under $3500... wayyyy out of my budget. And last, drop a V8 in... Been looking for a crashed 96' Z28 or SS, so there would be a minimum of wiring changes, but haven't found one yet... I already purchased springs and shocks that are listed for the SS, so I got that problem solved, and I found a used, one-piece, steel driveshaft that I found on a junk trans-am, that I've already installed, since a V8 would twist that crappy aluminum 2 piece shaft in a day or two...
From what I've read, as long as I can find an LT1 from a 96' model, and it has it's harnesses, they will plug right into my PCM and everythings golden...
And last, (sorry for such a long post), I do not have any means to lift my car high enough for the engine cradle to come out from under - so I will have to lift it out of the engine bay (I do have a cherry picker), has anyone pulled one this way?? If so, how big of a PITA was it? I'm not worried about the 3800 coming out, I'm worried about the LT1 going in! I know it's possible, because on the cover of my service manual, there's a V8 engine halfway out of the compartment on a trans-am, so hopefully I'm good there.
Thanks for taking the time to read all this and humoring me, but I truly appreciate all help and suggestions, as my only local source of info are the ignorant teens that work at Advance lol.
Newbie
Join Date: Jun 2014
Location: Spruce Pine, N.C.
Posts: 3
After typing that long post, and mentioning that the GM blower that comes on Pontiac Grand-Prix GTPs and Buick Grand Nationals, etc, I found
this kit
for sale, which apparently comes with the modified parts to fit this to a non-supercharged 3800... From what I understood, the supercharged GM 3800's are front wheel drive, so the engine sits sideways in the engine bay VS rear wheel drive for the Camaro/Firebird having the engine sit longways.... Because of this, the 3800's use different intake manifolds (among other parts), and the blower doesn't have enough clearance to fit on a Camaro/Firebird's version...
I also once seen a supercharger it that came with all the additional mounting hardware for Camaro/Firebirds, and while it was expensive, was a top-shelf unit and had great instructions. They decided to mount the supercharger backwards, facing the firewall instead of the radiator, mounted with a special bracket that located it between the A/C pump and idler pulleys.
Here's my idea... I never use my A/C at all, it's useless to me (too cheap to pay the additional gas LOL), why couldn't I remove my AC unit and mount a supercharger in it's place?? Then there'd be no need for any funky mounting brackets or special belt tensioners, etc... Anyone know whether this has been attempted before?? This version makes quite a bit more power than the GM blower does (roots-style blower vs. centrifugal unit).. The centrifugal kit can be had with either a standard size pulley for stock engines, or a smaller pulley producing more boost pressure for engines that have upgraded forged pistons, rods, and valvetrain. Not sure if standard 3.8 will run on the smaller pulley without premature engine wear... Like I said, I just want to get this car up to the 285 (rear wheel) HP mark, so it'll be a fun car but still reliable for everyday use. Although it'll just then be making the power than a stock V8 car is, it should be faster since it's so much lighter. Handling should also be better, since V6 cars are better balanced and carry their center of gravity lower... But anyways, enough rambling. Check out this blower kit and let me know whether you think it's a viable option...
3800 Supercharger Conversion Kit | Super Charger Kits | 3800 Supercharger Kit