SLP Y-pipe
---
Hey 4th Geners......Does anyone have the SLP Y-pipe (31035) on your 4th gen Camaro z28/ss or Trans AM?? Mainly wondering about the clearance with the tunnel brace?
---
2019 1SS/1LE
Have the long tubes, y pipe and loudmouth. Don't remember the y pipe number. I also have the drive shaft loop. All are SLP. No clearance problems with the factory piece. Just make sure it's spaced away before tightening clamps.
---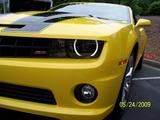 2010 Camaro RS SS LS3 (Bumble Bee) Vin#192 & 8 others made by GM and one Christine
LorcinLS1.....Thanks for the input..... The SLP y-pipe (31035) I'm looking at, as it appears to be the only one that connects to stock cats. Keeping the front half stock (manifolds and cats). I'm looking at getting a new cat-back, and also figured to get rid of that oem restrictive y-pipe while I'm at it.
---
2019 1SS/1LE
Yeah if your not going to long tubes no sense in changing the stock manifolds now.
---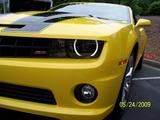 2010 Camaro RS SS LS3 (Bumble Bee) Vin#192 & 8 others made by GM and one Christine