24s Yo
---
god thats horible looking
---
'Winning'
Turning is probably the most fun
ModernCamaro.com Founder / Former Camaro Disciple
Join Date: Jan 2006
Location: Chicagoland, IL
Posts: 11,842
Ack. That burns my eyes.

I mean, I like big chrome wheels and all, but... eek.
Very classy
---
1998 Camaro A4 7.06 @ 96.5 MPH NA 1.47 best 60ft
2010 Camaro Tube Chassis work in progress
That is hideous.
---
Bob Lutz: "There's no doubt that a design-driven philosophy is the only one that will work. People who are not sensitive to design, people who don't care about vehicles, people who view a vehicle as an appliance, they just default to Toyota. We will never win that one."
Join Date: Mar 2008
Posts: 26
Ouch! What did you get a good deal on those?
Why not some 17" torque thrust or something. I got some 13" rusted wheels sitting around if you want them.
Senior Member
Join Date: Apr 2008
Location: Jacksonville, NC
Posts: 738
That makes me sad. Here in Jacksonville, NC stupid crap like that is popular. There's a 1976 Camaro running around lifted up with huge wheels on them. Looks retarded. I cry seeing it.
Its almost DONK!!! I can't stand that look on these cars.
---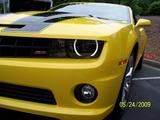 2010 Camaro RS SS LS3 (Bumble Bee) Vin#192 & 8 others made by GM and one Christine