I need someone to program a LT1 ECM
---
Does anybody know someone that can program an ECM for a 1994 Camaro LT1? I purchased a wrecked 94 Z/28 many years ago to use as the transplant in my 69 Camaro. After removing all the non-essentials, adding headers, cold air intake, it runs great but I would like someone to remove some items and adjust some others items and maybe teak it for more hp. I have searched Google but I would like recommendations of people who have used their services.
The few people that I have contacted are really vague in what they can actually modify so I would also like someone that knows what they are doing!
I'll ask around on one of the Indy boards for you.
If you can't find someone local, try PCMforless.com they are good people. Although you'd probably see better results on a local dyno.
---
2010-2SS/RS/LS3/IBM/RP6:
ECS-Paxton Supercharger / American Racing Headers & Exhaust / PFADT Suspension / DSS 9" 4.10 Rear / FOR SALE!
Quote:
Powerfreak is the only one who actually understood anything.
---
Last edited by POWERFREAK; 09-25-2008 at

07:27 AM

.
I located one in Crawfordsville.

prodynotech.com
Join Date: Jan 2008
Posts: 269
ECU
---
I have always used Ed Wright Automotive from Oklahoma. He does all my personal and customer cars. I have had NO issues with his tunes ect ect. Good Luck!
---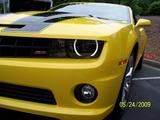 2010 Camaro RS SS LS3 (Bumble Bee) Vin#192 & 8 others made by GM and one Christine
Banned
Join Date: Oct 2013
Posts: 14
I think that*this information is*the best.