Join Date: Aug 2008
Posts: 244
Price of camaro
---
Now before anyone wants to chop my head off this is for a 1998 camaro not! a 5th gen:

Whats a 1998 Camaro with the LS1 350 motor, Z28. 70.268 miles. Everything looks in good condition how much do you think it will go for?
Join Date: Aug 2008
Posts: 41
Join Date: Jul 2008
Posts: 86
Join Date: Aug 2008
Posts: 244
its a 346 motor
---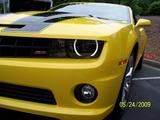 2010 Camaro RS SS LS3 (Bumble Bee) Vin#192 & 8 others made by GM and one Christine
Junior Member
Join Date: Nov 2007
Location: Broomfield, CO
Posts: 41
---
'02 Z28 For Sale
'10 SS/RS
8k is too high.

It's also not a 350.