Newbie
Join Date: Jan 2009
Posts: 7
Help, 95 firebird formula lt-1 won't start.
---
I was smelling a little coolant from inside the car when taking off from idling and decided to do a radiator pressure test and found the pressure was decreasing slowly. I did this pressure test one more time and sealed it back up. I then jacked the vehicle up and replaced the oil level sensor plug that was disconnected from the oil pan. when i lowered my car and tried turning it on it wouldnt start. The motor turns but won't fire up. Prior to this the car has been turning over fine and hasc't given me any problems. I was thinking maybe the pressure test pushed water into a cylinder but non of the cylinders fire up? any advice?
Its common for a coolant leak that lead to opti spark problems. The water pump is just above the opti and a leak can possibly cause coolant to get into the opti distributor. Since you have a 95 it should be the vented opti. I hate to say this because everyone is quick to point at the opti, but it just sounds too familiar of a problem.
---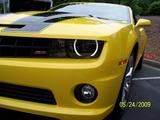 2010 Camaro RS SS LS3 (Bumble Bee) Vin#192 & 8 others made by GM and one Christine
Like the previous poster stated, the words "coolant leak" and "won't fire" generally point to Opti issues.
sorry to hear about your car issues but Welcome to the site
---
Quote:
Facebook has sucked me into Farmtown.

What can I say I love virtual plowing.
Coolant Issues
---
Generally the 2 above posts are the issues. If the water pump is leaking it usually does from the back around the seal where the pump is drivin. Then leaks down on the opti. It CAN leak around the block also. One thing not to forget is you could have a blown head gasket also. This will also cause starting issues because 1 or more cylinders have coolant in them. I would first check to see if your getting spark. Pull a plug and leave the wire hooked up and lay the end of the plug on the manifold. Use process of elimination to troubleshoot your problem. It maybe a faulty coil or something else, before you start taking everything apart! Good Luck!!!
---
www.lackomotorsports.com
2001 Dodge Cummins
1997 Z28 SS , 1996 Z28, 1993 Z28 all Drag Cars
1985 Monte SS 48,000 original miles
2003 Trailblazer (wifes vehicle)
Not enough lines to list all my crap and projects
Newbie
Join Date: Jan 2009
Posts: 7
cool thank you guys im going to remove that dist. tonight and replace tomorrow
Quote:
cool thank you guys im going to remove that dist. tonight and replace tomorrow
Replace the water pump and gaskets while you have it off.
Newbie
Join Date: Jan 2009
Posts: 7
well i forgot to mention in the first posting that a few days before i did the pressure test i had changed the water pump because it started weeping, and when i looked at all the replies it made perfect sense since the weep hole is directly above the distributer. But the gaskets as always will be replaced thanks for the heads up.