Join Date: Feb 2009
Posts: 54
LS Steelies
---
Hey guys, i was wondering what you guys think if the outer silver rim on the steelies was painted black to match. I remember seeing a picture of an LS at oshawa in the lot before the silver was installed. I know they're not the best looking wheel but i think they would look a tad bit nicer if the lip was painted to match. What do you think??
Here is a link to a couple pictures of the LS.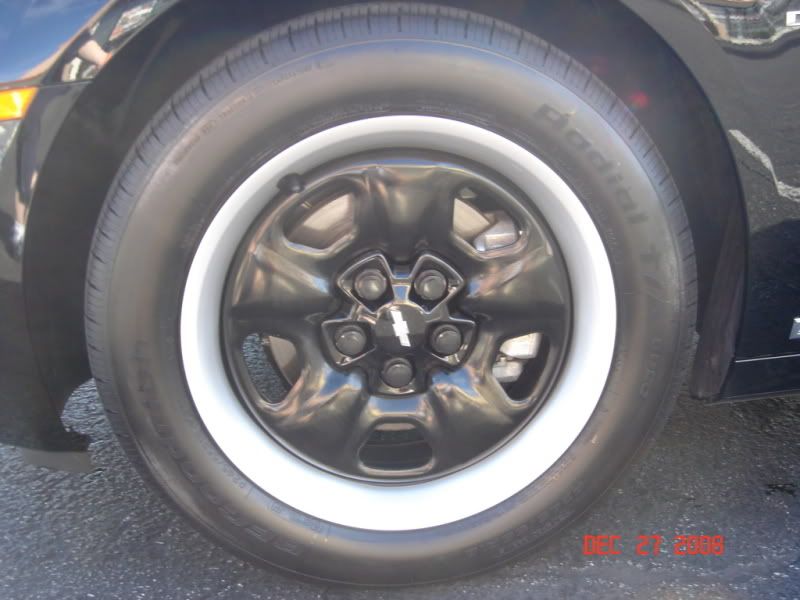 I think if they were all black they would look even smaller and worse.
I'm not a Fan of these on this particular year model car. However I saw them in person on the same model car but it was RTJ and imo it looked like $#it....but to be honest they dont look that bad on a black car.

This wheel would be an awsome spare IMO kind of retro and not something I would mind having to cruise to Discount tire on. just my 2 cents.
Just noticed, this but are they useing BFG Radal t/a's on the production cars. I wander if that goes with the heritage idea??
---
to Err is human, to blame someone else shows good managemt skills

06 Ponitac g6 gt
2010 Ram2500 Megacab Cummins
2010 Suburban LTZ
2012 Camaro 45th Aniv. Vert (Very shortley)
Veteran Member
Join Date: May 2008
Location: Windsor
Posts: 4,533
I think they look pretty good for a base car, but if I got an LS, I would certainly change them out. If the lip was painted to match, I would puke. It'd remind me of a certain K-Car.
---
┌∩┐(◣_◢)┌∩┐
All black wheels are it!
---
2005 CTSV BLACK LS7 Clutch/Flywheel/Slave, Tick Speed Bleeder, Tilton Clutch MC, RevShift Bushings, Domestic V8 Solutions (shifter, 8.8 Diff conversion, srut tower braces, sub-frame connectors), SLP cats, no cags, xpipe, bullet mufflers, Volante, iPod dock, G-force tune; 379hp 381tq.

Killing 5th gens like it is my job.
I dunno.....me no feelies da steelies.
---
Join Date: Feb 2009
Posts: 54
If money wasn't a problem I would have opted for bigger wheels but dropping a couple hundred on a new set isn't really an option. I'm not much of a photo shopper but i gave it a try. i think this might be better than the all black look because i agree that it might make them look smaller. This is just an idea, but the red strip would be smaller and black bigger. Maybe paint the chevy symbol red too..might not look too bad.
---
Last edited by blkcamaro; 03-28-2009 at

12:15 PM

.
Join Date: Feb 2009
Posts: 54
Veteran Member
Join Date: May 2008
Location: Windsor
Posts: 4,533
You have to
crop
the image.
I think it would look ok, but if you're gonna go that fancy, you might as well just go Aftermarket. I know it's not an option, but if GM were going to do that, there would probably be a big surcharge.
---
┌∩┐(◣_◢)┌∩┐