Selena's Car
---
If you're in the DFW area and not working tomorrow morning, you should come by the Dealership... rumor has it that Selena's car will be arriving tomorrow morn. She is here in town, actually she's at the Arlington plant right now, sneaking around the railyard, trying not to get caught or hit by a train (yes she called me and told me she almost got hit by one of the trains
) anyway, she finally found the little guy sitting all alone in a huge lot w/ Tahoes and Suburbans. So she is getting many pics from behind chain link
You disciples are KRZ!!!!! She even has me dog sitting her dog which is named "Chevy"
Gotta love enthusiasts!!! Ya'll are the best!
---
SS-ERIC
---
2010-2SS/RS/LS3/IBM/RP6:
ECS-Paxton Supercharger / American Racing Headers & Exhaust / PFADT Suspension / DSS 9" 4.10 Rear / FOR SALE!
Quote:
Powerfreak is the only one who actually understood anything.
OMG! Yep, that sounds like her.
---
2010 2SS/RS Auto, Sunroof, Engine Cover. Transformer Edition package.
2013 ZL1 ragtop #5478. 1 of 54 CRT M6 'verts.
ModernCamaro.com Founder / Former Camaro Disciple
Join Date: Jan 2006
Location: Chicagoland, IL
Posts: 11,842
LOL!
Yep, that's Selena alright.
Join Date: Feb 2009
Posts: 1,607
Ask her to show you her GM tat...
Congratulations, Selena!!!
Veteran Member
Join Date: Jun 2008
Posts: 1,136
Ask her to do a "burn out" for us!
Member
Join Date: Oct 2008
Location: DE
Posts: 119
Very happy to hear her Camaro has arrived into town!! We will have to have pics of said delivery of course.
hey guys! this is Selena (& Scott)
we just back back from staking out the rail yard. Bumblebee is sitting in the rail yard right behind a strip club
so we know where he went when he got off the train...
and here's the empty rail car leaving the yard. sorry, we didn't get over there in time to see it unloaded
i went and talked to the guard at the gate and he wouldn't let us in even tho i batted my eyelashes something fierce. he just said that when a driver comes in when our car on his list, it will be picked up and transported. no ETA as of right now, but it's looking like maybe tomorrow.
i have some video too... but i gotta figure out how to get that uploaded off the camera (it's brand new). so i'll post it up when i figure it out
i think we may go sleep at the rail yard tonight
---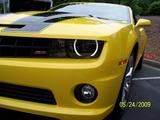 2010 Camaro RS SS LS3 (Bumble Bee) Vin#192 & 8 others made by GM and one Christine
I stood there behind a fence, only about 100 feet away from Bumble Bee. What a sight to finally be able to see our car. I tried to find a hole in the fence and the razor wire at the top was a bit much to try to climb over. I think if I had a little crown in me I would have made a run for it while Selena was talking to the guard at the shack, I know I could have out ran captain donut.

Oh and you guys need to see Classic Chevy WOW is this a big dealer. The parts department has a bunch stuff on display for sale.
---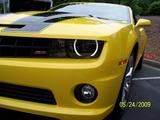 2010 Camaro RS SS LS3 (Bumble Bee) Vin#192 & 8 others made by GM and one Christine