Join Date: Oct 2008
Posts: 4
hey, Mike!! you're the guy that turned me on to those. thanks so much for that!! Scotty posted pics of your car when you went to visit him. your car looks killer!!! thanks for spreading the word about Bumblebee stripes
---
"All alone in my funeral home, playing in blood, there's just got to be something wrong with me" -Slayer-
When you put these on the trunk did you have to remove the spoiler first?
---
-1969 SS Convertible (real SS with factory A/C)
Mariner Blue - 350/5-speed. Owned since November 1985.
-2010 Camaro
2SS | M6 |
VR
w/
Gloss White Extended stripes
| 1 3/4" KOOKS | Magnaflow 3" cat-back | ADM tune (411 hp / 412 tq) | Halltech | MGW w/Race Knob | Spohn Trailing Arms | Hotchkis | TRS HID projectors | VMax ported TB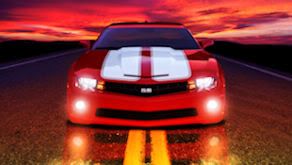 Looks like someone stired the bee hive this thread is becoming a swarm
Looks good
are those the midnight silver wheels that come with the RS package ?
Member
Join Date: Jun 2008
Posts: 105
And how difficult was it around the mail slots? I have a friend who does this and we just require a heads up on any probs encountered?
thanks
Mike
we had to remove the spoiler to put the rear stripes on. just a couple of bolts. not hard at all. and the mail slot seems intimidating, but i think it was the easiest part (tho we did save it for last and we were used to working with the vinyl by then). the bulge on the hood was the hardest part in my opinion.
---
"All alone in my funeral home, playing in blood, there's just got to be something wrong with me" -Slayer-
A "finally" thread I like!
So, are these black vinyl inserts?
---
Still legal in 16 states. It's happy. It's fun. It's Happy Fun Car.
Do not taunt Happy Fun Car.
Join Date: Oct 2008
Posts: 4
Quote:
A "finally" thread I like!
So, are these black vinyl inserts?
Yup
yup. i got those on order mahself
---
"All alone in my funeral home, playing in blood, there's just got to be something wrong with me" -Slayer-