Don't even have my Car yet and im already buying stuff !!!!!!
---
So in December I will be putting my order in for a 2010 Camaro SS through Classic of Grapevine from who other than Eric "SS" Hall
I'm waiting only to get another vehicle paid off and out of the way so I won't have 2 car payments.
Plus im letting Gm work out the first year kinks that have come up. I figure around that time everything should be fine for me to move fwd with my dream.
So I just like everyone else or most everyone I have been doing my online research for my future exhaust mod's and finally I came to the conclusion that there is an offering right now online that would save me $$$$$$$$$ if I went ahead and ordered this product "NOW" not only am I getting The headers , High flowcats and conection pipes but the 3 inch xpipe as well all thrown together a good bit under 2K
AND with FREE SHIPPING at this moment in time.
I have done my homework and if I wait I will be paying a few more hundread dollars and as we all know money is money and it doesnt grow on tree's so why not save some right ?
Maybe the money im saving will help me off more on my down payment and getting me into this ride at a good price........ right Eric ?
I bet Eric is rolling his eyes right now saying to himself ..........You gotta be kidding me he is ordering stuff for something we havent even ordered yet ?
I made my decision after a friend of mine bought this same kit and ended up with 47hp gain from just Headers , Highflow cats , 3inch xpipe into the factory mufflers and a LMR CAI and "NO" TUNE !!!!!!!!!!!!!
So many people are getting these same numbers with the same stuff and add even more power for those who go with getting a Tune to there ride.
The Count down is On Eric I hope you're ready for negotiating because in the future......I will once again step back on to the car lot at Classic...... this time I hope your going to be at your desk lol
Anyways here is what I ordered....................
1 7/8 headers and highflow Cats
3 inch Xpipe ready to hook into an axleback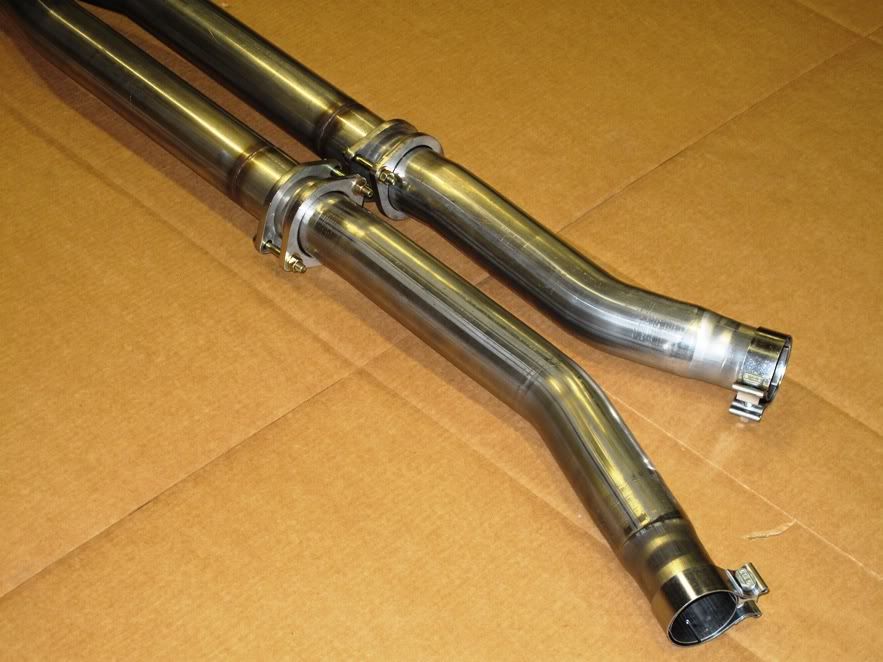 They're coming to take me away, ha-haaa!!
They're coming to take me away, ho-ho, hee-hee, ha-haaa
To the funny farm. Where life is beautiful all the time and I'll be
happy to see those nice young men in their clean white coats and they're
coming to take me away, ha-haaa!!!!!
---
<3 Mine:2LT IOM CGM rally stripes sunroof <3
Heather I knew you were a Nurse but I never imagined you would sneak in a morphine Drip during break shakes head.
ModernCamaro.com Founder / Former Camaro Disciple
Join Date: Jan 2006
Location: Chicagoland, IL
Posts: 11,842
LOL nice man!
Not even ordering the car for 4+ months and already buying parts.
That's dedication!
.....or insanity, your choice.
Veteran Member
Join Date: Oct 2008
Location: Wetumpka, Alabama
Posts: 8,645
Sweet way too cool
---
2014 2LT/RS with spring edition package. Proud Litho Owner #28.
Insanity. Tim, he's nuts and you know it!
---
<3 Mine:2LT IOM CGM rally stripes sunroof <3
I have been saving for a NEW Camaro since I was in my late teens I always said I would buy a NEW one when I hit 25. When I hit 25 there was no New Camaro shortly after I turned 25 they introduced the Concept so I decided to keep saving.
Now that the time is here and the car is here im paying off something else and reading and learning about this car so when my time "Soon" comes I will be ready.
Is it dedication ? I'm a Camaro Nut !!!!!!!!!!!
Is it Insanity ? Maybe just a Tad but its better to be insane this way rather than laying in a corner sucking on a sponge
im so ready for the day my car is delivered to classic on the truck......So I can make my Victory lap around Classic's property inbetween the first 2 rows of Corvettes on the front line probably making car noises ok minus the car noises but i will make my victory lap lol
I'm going to be the one standing in the front window of the dealership ( aka t nursery ) watching them back her off the truck crying to myself saying Today im the proud father to that car sniff sniff
hell yeah im nutts thats why im part of the best camaro site online
---
Last edited by Jekyll-N-Hyde; 07-30-2009 at

11:13 PM

.
Maybe you should buy an extra set of rear tires, so you will have them ready also.
Quote:
Maybe you should buy an extra set of rear tires, so you will have them ready also.
Nah im going to break it in very slowly and it wont be dogged. I will treat it just like my 69.
I have worked to hard to get to this point to just go out and romp on it all the time lol
plus who can afford the 20's ? I will have my fun but this is going to be my daily driver and my toy lol
Sure you say that now! But...... Lol I totaly understand, I have had to restore all of my own stuff at home in the garage so I totaly understand.