Member
Join Date: Sep 2009
Location: Suffield, Alberta Canada.......for a couple of years
Posts: 220
Advice please
---
I have covered 1000km in my Camaro, had the oil and filter changed today, (it's just the way I am!) When I picked it up, I asked the salesman about running in and he said (I quote) "Oh not too hard on the gas and keep her at below 3000rpm" but he didn't seem overly sure that it needed running in or for how long!! I couldn't find anything in the owners book-and I have been using no more than 1/2 throttle and not exceeded 3000rpm!! Whats the general concensus for running in, I know this can be a touchy subject (like exhausts
) But it's killing me not knowing as much as not being able to nail it
I have the induction kit on order through here but am still unsure what exhaust to get-I want more noise than standard but not LOUD!! The clips on youtube just dont help
And why do the exhausts seem to come in x and y configurations (headers by these guys, mid by those guysetc) does no-one offer a full system from headers to tail pipe with highflow cats? or am I asking too much? If I did have a full system would it be louder than I want?
I am soo loving this car though, never owned a V8 before, (had a tuned 3.6L V6) but that was crap in comparison to this car....How much low down torque ?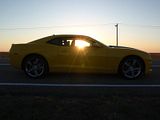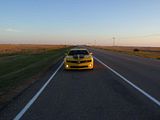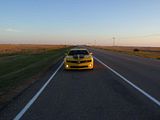 And how fast for such low rpms??
---
If I'm going to hell, I'll go on a Buell
Join Date: Jul 2009
Posts: 97
In the operating manual it says to keep it at or below 4,000 RPM's for the first 1,500 miles and not to stay at any one speed for a long period of time. I'm at 660 miles right now and I've been pretty good at keeping it below 4k RPM's. But every now and then I might have taken it to 5k.. lol. I know a lot of people have their own thoughts about how to break things in, I figure why not go with what the people who designed the car say..
Run it now and run it hard! That is the proper way to break in a car.

The same system used by professional car drivers driving expensive cars.
---
Add muscle to your muscle car.
Use P90X
9/14/10- Traded in Camaro for a 2010 F150 Lariat
Premium Member
Join Date: Dec 2007
Location: San Diego, CA
Posts: 442
Quote:
Run it now and run it hard! That is the proper way to break in a car.

The same system used by professional car drivers driving expensive cars.
Really? Awesome advice.
I've owned three new vehicles over the past 25 years and I've broken them in IAW the owner's manual...every time. If you follow the manual you can't go wrong. Plus, you'd still be covered by your warranty if you follow the directions...step outside that box and you're on your own.
Good luck with your new Camaro!
Semper Paratus
Break it in the same way you would drive it on any given day. Don't pamper it like in the old days. With the new oils and tolerances they maintain during the builds it isn't necessary to baby her. Just my 2 cents for what it's worth.
---
2010 Camaro's are GM's best idea yet!!!!
2SS/RS Black on Black, M6 Sunroof
2012 Summit White ZL1, M6, Sunroof
"Thank you Champion Chevrolet!!!!" #1588[
Hate to make this thread flip flop on you, but i'd have to agree with the owners manual and some of the other members on this board.

I'd follow the 4k-1500 rule, is it gonna kill you to baby it for another 500 or so miles? Specially when you might put 3000 + a year, kinda seems like a drop in the bucket to wait when it could be important. Nothing like ruining your engine because you decided to romp around in it too early, hardly seems worth it, even if you can why risk it?
as I would suspect...you're going to get a lot of different opinions on this. Whatever you do, most importantly keep the rpms varied, (don't hold it at 1 rpm for a long period of time)...don't use cruise-control for the first few thousand miles.
---
2010-2SS/RS/LS3/IBM/RP6:
ECS-Paxton Supercharger / American Racing Headers & Exhaust / PFADT Suspension / DSS 9" 4.10 Rear / FOR SALE!
Quote:
Powerfreak is the only one who actually understood anything.
Member
Join Date: Sep 2009
Location: Suffield, Alberta Canada.......for a couple of years
Posts: 220
Thanks all, I couldn't find any infoin my owners manual....I have no probs with being gentle foranother 500 miles-I will use up to 4000rpm now though. I been reading all the threads ref. exhausts,
I can figure out what a cat back, axle back system is but what is SLP? Thanks
---
If I'm going to hell, I'll go on a Buell
Drive it the way you are gonna drive it. That is the proper break in.
dynoed mine at 800miles, been a hard first 2000 miles. 13 dyno pulls and about 10 passes down the drag strip.