Join Date: Aug 2009
Posts: 37
Does this make sense??
---
(For ease of following along, I live in Harrisburg Pa) after checking camarotracking and getting my rail # I called and and the automated system said last wednesday that it left the plant for London Ontairo. I called the next day and it was sent from Ontairo to Detroit. A couple days later it said it was sent from Detroit to New Castle Pa which is an hour north of harrisburg. At this time i'm thinking it it'll arive at the dealership in a day or so since it's close. Well after not hearing anything I call the rail # again and it says shipped from New Castle to Jessup Maryland! At this point i'm thinking why would they bypass harrisburg on the way to Maryland! Well I called today and now it says shipped from Maryland to Youngstown Ohio!...Does anyone know why they are following this rediculous route? To get to PA from Detroit you go through Ohio why wouldn't they just make the needed stops along the way to New Castle? and Why not drop the Car off in Harrisburg on the way to Maryland....
...Yes Mad
---
Last edited by TicketMachine; 11-02-2009 at

11:40 AM

.
Only thing I could think of is how the railcars are arranged....maybe yours was mixed up? I have no idea.
---
Rally Yellow 2SS/RS
Fifty years from now, when you're looking back at your life, don't you want to be able to say you had the guts to get in the car?
I feel your pain, I had to fly to Illinois last year, I boarded in Philadelphia, flew to Texas, then to Illinois. I ups'd something the other day to New York from here in Pa, it went from Pa to NJ,that makes sense, then from NJ to MD, Md to Phila PA, then to New York. Sometimes that stuff puzzles me, I think they just don't want to stop in our winderfull state! Welcome by the way Ticket Machine in Harrisburg, only 45 minutes away from ya!
---
Rodney Updegrave
2011 Chrysler 300C, 1954 Cadillac Coupe De Ville,1949 Pontiac Woodie Wagon,1972 VW Beetle Roadster, 2004 Baja 25 Outlaw
www.fquick.com/rodster56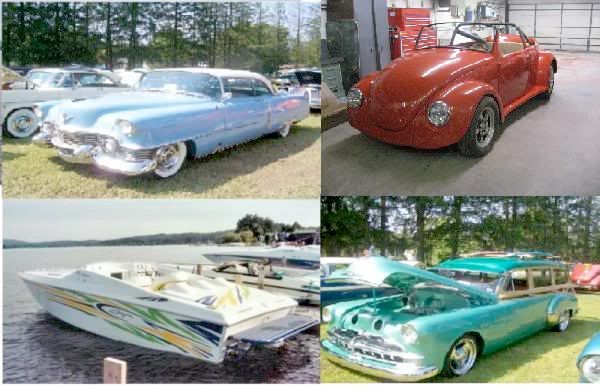 Join Date: Oct 2009
Posts: 10
Not sure why they took that route, but just FYI, there is a New Castle, PA just east of Ohio about 25 minutes from Youngstown (I grew up in the Youngstown area). Perhaps it was Youngstown to New Castle to Jessup and the order was just screwed up when you called?
Join Date: Aug 2009
Posts: 37
I hope the automated system was screwed up..In any event the status has changed to in transit by truck now so it shouldn't be long!! Starting to permagrin
Join Date: Aug 2009
Posts: 37
Thanks Rodster..That's a sharp lookin camaro! I tried getting my order changed from the rally yellow to the inferno orange but I guess it was to late! I ordered mine through Sutliff in harrisburg if you're familiar.
Here is a funny answer for you...... They forgot to remove your car from the rail when it was near in PA. My car was on a rail with 3 other camaro's bound for SanAntonio. On Oct 6th, 3 camaro's including mine were delivered to my dealer....the 4th was accidently left on the rail...went all the way to Houston and came back to SA on the 8th....oops
. My friends car and mine were supposed to be delivered on the same day but he got his 2 days later....
---
needs no explanation
VIN#A9148288
IN MY HANDS 10-7-2009!!!
New Castle is not north of Harrisburg -- it's north of Pittsburgh.

I'm going to guess that the closest rail yard is Jessup.

I also used to work for Sutliff. It seems like a lifetime ago.