Transformers Hoodliner...
---
Just painted my first Camaro hoodliner!
I have painted many vette hoodliners, but this was my first Camaro one and I am very proud of it. Hope its ok for me to share it with you all. Just waiting for pictures of it installed and yes, the car is YELLOW!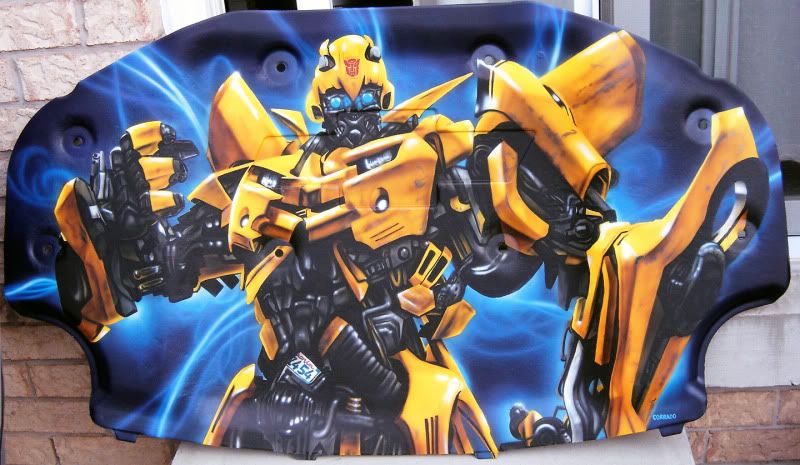 Veteran Member
Join Date: Oct 2008
Location: Wetumpka, Alabama
Posts: 8,645
Hello from Alabama and welcome to
Wow that looks very cool awesome job
---
2014 2LT/RS with spring edition package. Proud Litho Owner #28.
First, Welcome!!!
Second....that is the greatest thing I have seen in a long time!! My wife and I decided on flames (outside ) but I need to find a good painter here to do it.
---
needs no explanation
VIN#A9148288
IN MY HANDS 10-7-2009!!!
Looks nice, great job
I like that! Nice work!
---
2010 2SS/RS Auto, Sunroof, Engine Cover. Transformer Edition package.
2013 ZL1 ragtop #5478. 1 of 54 CRT M6 'verts.
Veteran Member
Join Date: Aug 2009
Location: Cali. North Bay
Posts: 1,925
Mad Skillz!!
---
Chuck
2010 SIM 2SS/RS A6 SC - Born on 10/05/09

MyCamaroBuildInfo
"You Were Really Flyin' When I Passed You Back There!"
February-2013-MOTM-Winner
O M G! that is freaking AWESOME!!!
here i was expecting to see a little autobot logo painted on there or something simple and when i saw that my whole jaw just dropped on the floor. amazing work!! now i wanna do that to mine... too bad i have zero artistic skills...
---
"All alone in my funeral home, playing in blood, there's just got to be something wrong with me" -Slayer-
That is awesome. You do great work.
---
Had: ABM 2SS/RS M6
Waiting on: ZL1
That's pretty badass man.
---
Rally Yellow 2SS/RS
Fifty years from now, when you're looking back at your life, don't you want to be able to say you had the guts to get in the car?