Join Date: Feb 2006
Posts: 1
Will the Camaro be built in Canada again?
---
i hope its in the usa, not that i have anything against canada. it would also be cool if they would do something like the vette plant. watch it get built start it up for the first time, what a dream
---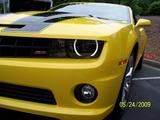 2010 Camaro RS SS LS3 (Bumble Bee) Vin#192 & 8 others made by GM and one Christine
Join Date: Jan 2006
Posts: 67
F Canada! F Canada!
i have nothing against canada, but i think it should be built here. as long as its not Hecho en Mexico, i will be alright with where ever its built
ModernCamaro.com Founder / Former Camaro Disciple
Join Date: Jan 2006
Location: Chicagoland, IL
Posts: 11,842
I would prefer for it to be built in the USA too.
However if it's built at Oshawa, that would be fine because that plant has an OUSTANDING quality record.
America. Let the Canadians build the Saturns.