Solid Hood Stripe
---
I think I can only recall like 2 members on here that have the solid hood stripe besides myself, when I originally ordered I thought this would be a popular as the rally's, not that this has changed my mind I love the way it turned out. Why do you disliike them and or why wouldn't you put them on your car (with or with out the hockeys)?
Veteran Member
Join Date: Oct 2008
Location: Wetumpka, Alabama
Posts: 8,645
I am still up in the air with stripes. I kind of want them but not sure. If i do do any stripe i think i will go with hockey stripes and the hood cowl stripe and have them painted on...
---
2014 2LT/RS with spring edition package. Proud Litho Owner #28.
I'm also thinking that I'll get stripes later, and when I do, I'll have them painted. As good as they are, I'm just not a fan of vinyl on cars.
I just had the 4th vinyl solid hood stripe installed last week. If my wife wasn't so bent on having it on there, I would have given up a long time ago.
The first one was damaged on install, so they got a replacement, and it had a small scratch when finished.
They had another shop install the next one. He scratched the hood badly, and the decal had a wrinkle too.
They let me find a shop to do the next one.The next decal had been folded in the box, and had a wrinkle.
The next 2 ordered were the wrong color.
The right one finally showed up, and was put on last week.
The installer said that the material is so thin, and with the convex shape of the hood, it's easy to damage the decals during installation.
He did get most all of the scratches buffed out. (I wasn't ready to start repainting.)
That all being said, I really wish that I had gotten some custom striping painted on. The cyber gray stripes barely show up on black. I would have gone with something a little lighter.
I really like yours Jon.
This is another one that I like alot too...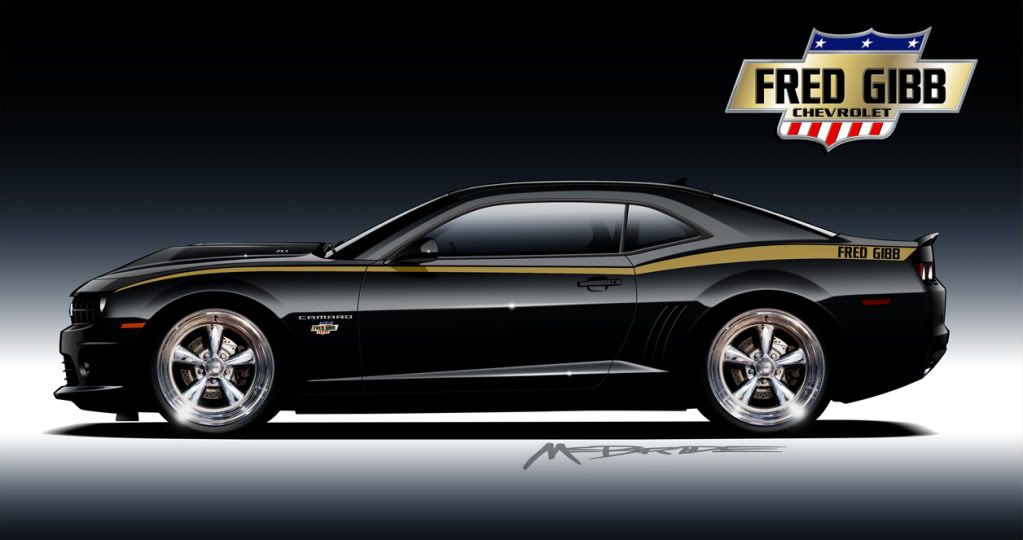 ---
'71 Z/28 RS Mulsanne Blue w/Black stripes, lots of add-ons.

2002 Z/28, M6, Pewter w/ stripes, Daily driver.

2010 2SS/RS Black w/ CGM Hockey & Bonnet Stripes, Ebony Int., M6, 20" Polished Wheels.
WOW, sorry to hear you are having so many problems with the vinyl!!! Mine are still in the box, I never even bothered with them, (could not cancel them once the order was in), thanks for the complement. I like that pic you posted, don't think I have seen that stripe before, looks good with the scoop hood profile. If you have any more problems find a good paint shop, I wonder what a 70% CGM & 30% SIM would look like? Because unless you want those stripes to jump off the car (I did
) SIM will be too bright on black IMO.
Join Date: Feb 2010
Posts: 14
I like the Center Stripe!!
Member
Join Date: Aug 2008
Posts: 240
I've been surprised at how few people have gotten the hockey stripe package. I got CGM hockey stripes to go with my RJT and I really like it.

I've wondered from time to time if and when GM is going to drop the hockey stripe package since it sells so low compared to rally. I wouldn't be surprised if no stripes are more common.
My 69 Came with hockey stripes so I Figured my 10 needs them as well. However I took a different route and went with a different type hockey stripe that kind of resembles the older ones but has its own touch as well.

I didnt like Gm's Hockey stripe
Quote:
I took a different route and went with a different type hockey stripe that kind of resembles the older ones but has its own touch as well.

I didnt like Gm's Hockey stripe
I agree, if you look at your pic of the 69 the hockey goes past the marker light, this is one of the reasons I never put the vinyl on, it did not go down far enough. I think GM should try to emulate the original a little more, granted you will not get a 90 degree hockey on this car, the car dose not have a blunt front end, but they could have done something a little better.
Junior Member
Join Date: Nov 2009
Posts: 31
my dealer's custom shop did a great job with the hood/trunk/hockey stripes and the flat black one piece seems to be more rare than the rally stripes