Member
Join Date: Nov 2009
Posts: 120
Unwanted Attention
---
So I really can't find anything undesired about having a new camaro except one thing, unwanted attention from law enforcement. I am 28 years old and have been pulled over more times since buying my SS in November '09 than the rest of my life in any other vehicle put together. All of which resulted in no ticket or citation.

Case One: Got my tint put on and the next day I get pulled over at night (how he could tell it was "too" dark at night while passing me at 45mph each way I don't know) the tint was legal and he put the meter on it, so no ticket.

Case Two: Getting on interstate with a two lane on ramp that is almost a mile long, side by side with a tan Charger. I wasn't racing just trying to get ahead so I wouldn't have to wait for him to merge (Let's face it there are a lot of morons trying to merge at 45 mph on a 70 mph interstate) Well this charger was an unmarked state trooper, but I wasn't doing anything stupid so he just told me I need to find the right places to accelerate that fast.

Case Three: Night again and there is a road near my house that you have to do a quick 90 deg turn to the right and then back left again, which straightens out to 55 mph. This Durango in front of me is going 45 mph for two miles in a 55 mph zone, I didn't want to pass him because it was raining, so I got a little close, but by no means tailgaiting. This Durango is once again unmarked, but local police. I make my turn down my road and he turns his car around, follows me for a few seconds and decides he needs to pull me over as well for riding too close to him. No ticket.

Just wondering does anyone else have this problem? I am averaging one a month since buying the car.
Member
Join Date: Nov 2009
Posts: 120
Not necessarily. Before this car I had a Solstice GXP and would accelerate pretty good around law enforcement every now and then, never got pulled over once. I didn't get over 75 mph on the on ramp instance, its not like I kept riding it out up to 90. And when I say a little close to the durango I was at least 3-4 car links back once I realized how slow he was going, I did have to slow down as I approached him. I wasn't right on him or flashing headlights.
They just wanted to see your Camaro. No ticket, feel lucky. If they wanted to cite you, they could come up with a reason.
---
2010 2SS/RS Auto, Sunroof, Engine Cover. Transformer Edition package.
2013 ZL1 ragtop #5478. 1 of 54 CRT M6 'verts.
Do you live in the middle of nowhere? That's the only thing I can think of -- local hillbilly cops with nothing better to do.
I had a cop pull on side of me and said "you are going to pull over so I can check it out" The first thing he did was show me his camera phone pic of how he wanted his halos to look.
---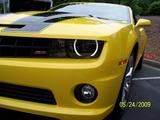 2010 Camaro RS SS LS3 (Bumble Bee) Vin#192 & 8 others made by GM and one Christine
I live in a town that has only 6 police officers and one of them keeps trying to race me. (I think) Whenever he pulls up next to me at a light he always floors it on the take off. I'm not taking the bait. I don't know the guy and I'm not gonna get pulled over for smoking his crown vic
I wont pull a car over just to check it out. However I will roll up on people in a parking lot and ask if I can check out their car or give them the thumbs up as I pass them on the street. Most cops love muscle cars and Harleys. Sometimes it actually helps with community relations.
---
Veteran Member
Join Date: Oct 2008
Location: Wetumpka, Alabama
Posts: 8,645
Most of the police know me plus i usually dont give them a reason to pull me over. Most stop by the bowling alley if they want to check my Camaro out...
---
2014 2LT/RS with spring edition package. Proud Litho Owner #28.