Just don't like the back up sensors
---
I don't know what it is but I just can't deal with the back up sensors they started putting on these cars. I saw a few more Camaro's at the car show today and they all had them plus no chickletts. I'm just glad I order early enough to get the chicklettes and no sensors. Anyone else?
how do they work exactly? i'm still waiting to get my 2SS.
---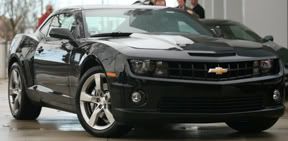 Like most things, you will probably not notice them after a while. I drive quite a few cars with them, They come in handy
Premium Member
Join Date: Apr 2010
Location: Hurst, Texas
Posts: 4,357
I drove a few new 2SS' with the backup sensors, was cool for a while but glad mine came without them. I also like the rear bumper without the sensors present. The wife liked them..........but for me, nope.
Sensors...
---
They make a beeping sound as you back up and the closer you get to a object the faster they beep. If you don't like them you can go into your personal settings and turn them off. myself not a big fan, but great for the WIFE. It's her option!
Great for some people, but I am not a fan. They don't look good tacked on there. At the very least, they should have been optional.
got mine before they came out and thank God, not only do they look bad, but I think the beeping would annoy me
---
~ Dreams do come true ~
Good glad to see it's not only me that does not like them. I'm glad I ordered early enought not to have them.
Didn't have a chose. When I ordered they didn't have them and a month before I mine went to build they started forcing you to have them. I don't mined them, but it does make me feel like I got a second generation of the 2010's. love my baby but wish she didn't have them.
---
Black 2SS/RS 6M
ordered 5-23-09 : 3000 9-4-09: TPW-9-28-09 : VIN# 10-6-09 :
Received 10-28-09 Perma Grin since
Just one more thing to help people get through the day without thinking or acting on their own. Plus it looks like crap IMO.
---
You have been banned for the following reason:
No reason was specified.
Date the ban will be lifted: Never
The other websites awsome excuse to ban me.
Username: Rodimus Prime Password: Rebecca1