It Happened Again :(
---
so i got out of work early whoohoo
wanted to give my baby a girl a bath before my road trip to get her presents tomorrow. so i'm sitting in line at the car wash with the car in N and the e brake on, music playing softly and reading a pm that i'd recieved when all of a suddenly the whole effin car gets rocked
i look up from my phone to see a **** mini van that backed right into me
i come out of my car and right to this stupid b*tch behind the mini van and she's all like "what's your problem" you stupid f*cking C U........ (i won't finish that word on here) you just backed into my car. she's like what i didn't see you
i demanded that she gets out he insurance and registration as my body shop will be in contact with her insurance company by moday at the latest. she finally complies and i have everything scrawled in the back of one of my books
i'm heading south tomorrow and will be stopping at the same dealership that looked after my tailgate claim to get this claim started
i was so mad i was shaking. took me well over half an hour to calm down. that's twice my baby has been backed into at least i was in the car to see it happen this time
here's the pics of the two hit points
the quality didn't come out as good as i was hoping but i wanted to capture not only where the paint has been peeled back but the rub marks left by her van
touch point #1 and yes the lines to the right of where the paint has been peeled is from her van
touch point #2
---
welcome to alberta we eat cow, drill oil and rope calves
wants to push you down a flight of stairs to see if you are like a slinky or if you bounce like a ball... either way, I am quite sure I will be amused
ouch...sorry.
---
2010-2SS/RS/LS3/IBM/RP6:
ECS-Paxton Supercharger / American Racing Headers & Exhaust / PFADT Suspension / DSS 9" 4.10 Rear / FOR SALE!
Quote:
Powerfreak is the only one who actually understood anything.
that sucks
---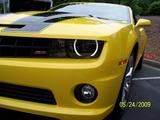 2010 Camaro RS SS LS3 (Bumble Bee) Vin#192 & 8 others made by GM and one Christine
Ouch - Sorry Kitty
---
Power without control is useless.
Veteran Member
Join Date: Oct 2008
Location: Wetumpka, Alabama
Posts: 8,645
Sorry Kitty
---
2014 2LT/RS with spring edition package. Proud Litho Owner #28.
sorry, i know how bad it sucks when someone messes up your baby
---
I'm sorry Kitty. Bad things always have a habit of happening in twos and threes consecutively. Don't worry, some positive karma will come around your way soon. At least you didn't let that ***** off the hook easily!
Good luck with the repair, sugah!
---
You have been banned for the following reason:
You have not shown yourself to have reformed from your previous ban, and continue to create secondary accounts. If you continue, we will prosecute using DMCA anti-hacking laws.

Date the ban will be lifted: Never
well that better be number three cuz i'm really not wanting to see more damage come her way

gonna hit up the dealership this morning and see what they have to say bout getting it fixed
---
welcome to alberta we eat cow, drill oil and rope calves
wants to push you down a flight of stairs to see if you are like a slinky or if you bounce like a ball... either way, I am quite sure I will be amused