Looking for "How to remove the front bumper" thread
---
I can't seem to find the thread that gives good detail on how to remove the front bumper on an SS. I could've sworn I saw one at one time but can't find it now.

Anyone know of any links?
---
-1969 SS Convertible (real SS with factory A/C)
Mariner Blue - 350/5-speed. Owned since November 1985.
-2010 Camaro
2SS | M6 |
VR
w/
Gloss White Extended stripes
| 1 3/4" KOOKS | Magnaflow 3" cat-back | ADM tune (411 hp / 412 tq) | Halltech | MGW w/Race Knob | Spohn Trailing Arms | Hotchkis | TRS HID projectors | VMax ported TB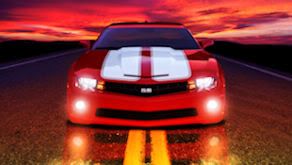 http://www.youtube.com/watch?v=9pZ2j2vUZ9w
http://www.youtube.com/watch?v=MkWBmIixfBk
pretty easy!
1) use a flathead to remove the 6 tabs on top of the bumper.
2) use 10mm socket to remove 2 bolts on top of bumper (one on each side by the fender
3) use T-25 screwdriver/socket to remove 6 screws inside each fenderwell (3 front and 3 back)
4) use a flathead to remove the tabs holding fenderrwell in place
option: put the front on jackstands, remove the front 2 tires and remove fenderwells (makes job much easier)
5) use a 10mm socket to remove 4 bolts inside each fender (3 on the front and 1 on the side)
6) use a 7mm socket to remove 1 bolt that is vertical on the side of the fender near the sidemarker
7) when working on passenger side, disconnect wire harness
8) use a 10mm socket to remove 2 bolts on bottom of bumper
and slide it out away from the car and its off!
i've done it 3 times now and each time is quicker and quicker (best time: 20 minutes with hand tools)
---
April 2010 Member/Car of the Month

Gone but not Forgotten!
its really easy to do
did one on a 79 Z28 I had it was a night mare
---

For some reason the 3rd time I took mine off, it was a huge PITA for no reason. I hate when cars are tempremental.
---
You have been banned for the following reason:
No reason was specified.
Date the ban will be lifted: Never
The other websites awsome excuse to ban me.
Username: Rodimus Prime Password: Rebecca1
---
Silver Ice Metallic 2013 Camaro 2LT
Born 7/29/2012 Delivered 4/24/2013
CyCam1
My bumper is no longer aligned properly since I removed it. I took it off a while back to modify my DRL's and now the hood isn't lined up with the bumper.