Join Date: Jan 2006
Posts: 863
Concept in new GM Commercial
---
Watch the commercial here:
http://www.youtube.com/watch?v=fRzShNSYoNE
Its at the very end, and as best as I can tell it is the only non-production car that is shown in the entire clip. Add this to the "unofficial offical production announcement" stack...
Join Date: Jan 2006
Posts: 503
My work blocks that site.
Thanks for the clip! GM
has
to build that car!!!
---
'99 Camaro SS #1392

Onyx Black/Neutral leather;MN6;T-Tops

SLP Options: Performance Exhaust; SS Keys Fobs/Plaque

Mods.: SLP L/T's; SLP Y-Pipe; SLP Loudmouth; Random-Tech High-Flow Cats; PRO 5.O w/ Lou's Short Stick; MTI Airlid w/ K&N; Hotchkiss STB; OPTIMA Red Top
ModernCamaro.com Founder / Former Camaro Disciple
Join Date: Jan 2006
Location: Chicagoland, IL
Posts: 11,842
Awesome commercial!
FWIW, it will air for the first time tonite (May 11) during Survivor.
Senior Member
Join Date: Mar 2006
Location: Dixon IL
Posts: 861
Hopefully that commercial is a quiet confermation about the camaro
it would be the craziest thing to happen, a concept that get this much attention and doesn't go into production, i believe THE CAR IS COMMING
---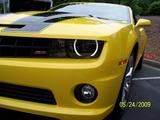 2010 Camaro RS SS LS3 (Bumble Bee) Vin#192 & 8 others made by GM and one Christine
ModernCamaro.com Founder / Former Camaro Disciple
Join Date: Jan 2006
Location: Chicagoland, IL
Posts: 11,842
Quote:
Originally Posted by LorcinLS1
i believe THE CAR IS COMMING
Supporting Member
Join Date: May 2006
Posts: 178
The last GM vehicle to get this much hype in its concept stages was the SSR and it made it even though it shouldn't have IMO. So I think our chances are pretty good. Beyond that, Lutz slipped up in an interview with Autoweek back in March indicating that the next GTO would be on the same platform as the Camaro
Sorry if this is a repost!!
http://www.autoweek.com/apps/pbcs.dl.../60302001/1039
Quote:
General Motors plans a follow-up to today's GTO, and a high Australian dollar means it will likely be built in North America

By GREG KABLE

AutoWeek | Published 03/02/06, 12:21 pm et

The Pontiac GTO lives! It will be replaced in late 2008 by an all-new model underpinned by General Motors' latest rear-wheel-drive Zeta platform, with a strong likelihood of it being built on the same production line as the Chevrolet Camaro in North America.

That's the message from General Motors vice president for global product development, Bob Lutz, at this week's Geneva motor show.

The replacement for today's slowish-selling GTO was canceled last year when General Motors announced it was reorganizing its North American operations and was set to focus its efforts on creating a new line of sport/utility vehicles, pickups and crossovers.

But Lutz has told AutoWeek that reports of the rear-wheel-drive coupe's death were premature and the next-generation GTO's development program was only really placed on hold, and—after some internal reorganization to ensure profitability targets can be met—it is now back on.

"The reason we said it was canceled is because that way our people would put their pencils down," Lutz said. "In GM if you say something is deferred, then people keep working on it. We really needed to get that message through to everybody." GM's 74-year-old product guru said the program into which the GTO is incorporated was 'getting out of control' and running up costs that would have made it unworkable.

"It was my fault that it got out of control in the first place," he added. "It was going to be the world's greatest car and apparently cost nothing to make. So we've started over now. The program is back on and it's going full tilt."

Lutz confirmed that the GTO was "only ever off for two months, but that break has enabled us to get a more feasible program up." The program he points to is General Motors' Zeta rear-wheel-drive platform, which is being developed by Holden in Australia and set to underpin the new-generation Commodore due to be launched in August.

Besides Camaro and GTO, other models set to be based on the Zeta platform are upcoming replacements for the Chevrolet Impala and Monte Carlo, and a new car called the Buick Statesman, according to Lutz.

Contrary to rumors, however, Lutz said General Motors is not planning to revive the Pontiac Firebird. "No, that's not something we are planning. We are not going to do that car," he said.

When pushed on whether GM was thinking about bringing back the El Camino off the Zeta platform, Lutz beamed with enthusiasm. "The kids in the company, myself included, would love to do another El Camino, but the grown-ups amongst us don't share that way of thinking," he said. "It would be fairly simple. We'd only have to put a Chevrolet face on the Holden Ute [a car-like pickup sold in Australia]. The building blocks are there."

Less sophisticated than the existing rear-wheel-drive Sigma platform found beneath the Cadillac STS and other high-end GM models, the Zeta architecture is said to be considerably cheaper to produce, owing to a simplified rear-suspension arrangement and other features.

Lutz suggests the individual character of GM models would not be compromised by basing them around one platform. "We have developed different dash-to-front-axle lengths for various models," he said. "It [the Zeta platform] is a really flexible platform."

Along with Australia and North America, Zeta-based rear-wheel-drive models are also being developed for sale in the Middle East and China. Details remain scarce, though GM's business case for the new GTO is rumored to be based around sales of between 15,000 and 20,000 per year in North America. After a promising start, today's model has failed to live up to initial estimates recording 13,569 sales in 2004 and just 11,590 in 2005.

Lutz confirmed that GM's Australian subsidiary, Holden, would play a leading role in the engineering of the GTO [where it is sold as the Monaro] and its sister car, the Camaro. "Holden is responsible for the large rear-drive architecture that these cars are based on. If it happens, Holden will do the development on the Camaro as well as the GTO," he told AutoWeek.

Despite being developed in Australia, however, there are strong indications the next GTO will be built in North America. "Whether the GTO will be built in Australia [as the current Pontiac GTO is] will largely depend on the [U.S. vs. Australian dollar] exchange rate at the time," said Lutz. He added, "With the current strength of the Australian dollar and the recent Free Trade Agreement between Australia and the U.S., it would be more feasible to build the GTO in North America. This raises the possibility of both the new-generation GTO and Camaro being imported to Australia in right-hand-drive guise.

Production of today's Pontiac GTO is planned to end in September, leaving GM with two years before the new Zeta-based model arrives in North American showrooms. As with the recently unveiled Chevrolet Camaro, it is expected to carry a more retro-inspired design with cues from earlier GTO models. Today's model started life as the Holden Monaro and was never envisaged to carry the GTO badge, leading to complaints from North American buyers that it lacks any visual connection with the original.
---
Last edited by Chuggernaut; 05-12-2006 at

12:05 PM

.
Good read!
I like the SSR, GM just priced way too high IMO
Join Date: Jan 2006
Posts: 863
Waggoner said himself they'd be "brain dead" if they don't build the Camaro.