Roush-Yates interested in the NEW Camaro
---
Interesting to say the least. But Roush-Yates who has been forever known as Ford performance engine builders, is wanting to become associated with the Camaro.
Just last week I was approached by a member of the Roush-Yates team and told me that they wanted to become known more with other makes (especially the Camaro) and not just as a Ford engine builder. He has offered a club dyno-day to our club and also offered a conference room where our club could meet at if we would like to, free of charge. I found this all hard to believe and told him that it would take some time for people to get use to the fact that Roush-Yates was not just associated with Ford anymore. Still hard for me to believe, but get ready America....its true.
---
JANUARY 2012 MODERN CAMARO MEMBER OF THE MONTH
JUNE 2012 CAMARONEWS.COM CAR OF THE MONTH
http://5thgencarolinacamaros.webs.com/
roush parts on a camaro,
not in my garage
---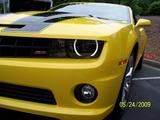 2010 Camaro RS SS LS3 (Bumble Bee) Vin#192 & 8 others made by GM and one Christine
---
WOW for what? 4 months my avatar was not political and now it is?
Always Remember! Rest in Peace Brothers 9/11/2001. And thanks to all those who defend and serve!
Ordered 5/23/2009 Arrived 8/21/2009
2SS/RS/Aqua Blue/Grey Interior
yates? who the F is that? and this reminds me of saleen wanting to work on the camaro.....like i said then... i dont think so.
---
Brixton Forged
CM10 Wheels IN STOCK!!! RF7 SOON!!!!
Camaro/M3/M4 wheels in stock High Gloss Titanium
Premium Member
Join Date: Aug 2008
Location: Pennsylvania
Posts: 6,223
Looks like they want to move up to a better car
---
James 1:25 Ordered from Faulkner Chevy #NKCF02 1100 5/8/9 2000, 3300 7/16/9 TPW 7/20,GOT MY (low) VIN! 4000 7/24/9 ,Picked up 8/7/9!!! Signed Litho #45. Car signed by FBodfather 2011. Service: Jennings Chevy in PA. We don't "drift", kiddies... we
POWER SLIDE!
MOTM/COTM Sept 2012
Pro Patria Vigilans
.
Click the pic.. I don't tolerate fools.
Whats next? A shelby SS?
---
sicker than most.
im not much of a drag race fan. and no ive never heard of the guy.
---
Brixton Forged
CM10 Wheels IN STOCK!!! RF7 SOON!!!!
Camaro/M3/M4 wheels in stock High Gloss Titanium
Hey 2010, Yates does a lot more than just drag racing, I just happen to read that article yesterday. Yates provides ALL the motors for every Ford that races in the NASCAR Sprint Cup Series, the new FR9 Engine. Back in the 80's and 90's he built some of the most powerful Ford engines that ever raced in NASCAR. In fact, Bill Elliot drove a Ford Thunderbird at Talladega Super Speedway to victory, after being caught two laps down. The impressive part, he passed the entire field not just once, but twice, without a caution, to go on and win, Oh, and his Thunderbird was powered by a Yates Engine.....