Newbie
Join Date: Mar 2012
Posts: 9
Door Ding w/ faint paint missing
---
Footnote before I post...Yes, I did do a search, but could not find an answer to my exact question. Could only find paintless ding repair.
Got a door ding yesterday and a miniscule bit of paint came off. It is tiny, but noticeable and with the car only 2 weeks old, I am frustrated and a little embarrassed.
I am wondering how to fix this so get the door back to new. My dad suggested I get a paint repair pen from an auto store and paint the little piece. Is that a good idea?
Should I take it back to the dealer and have them fix it?
I want to fix it right, however, I don't want to spend an arm and a leg.
I am guessing that I have to pay to fix it right, but I am holding out hope that I can get it done and back to new again for less than $100.
Any suggestions?
Thanks!
Here is a pic of it. (I know, I know, the car is a little dirty. I need a wash!)
You can see the ding/paint scratch below the handle to the left a little bit.
[IMG]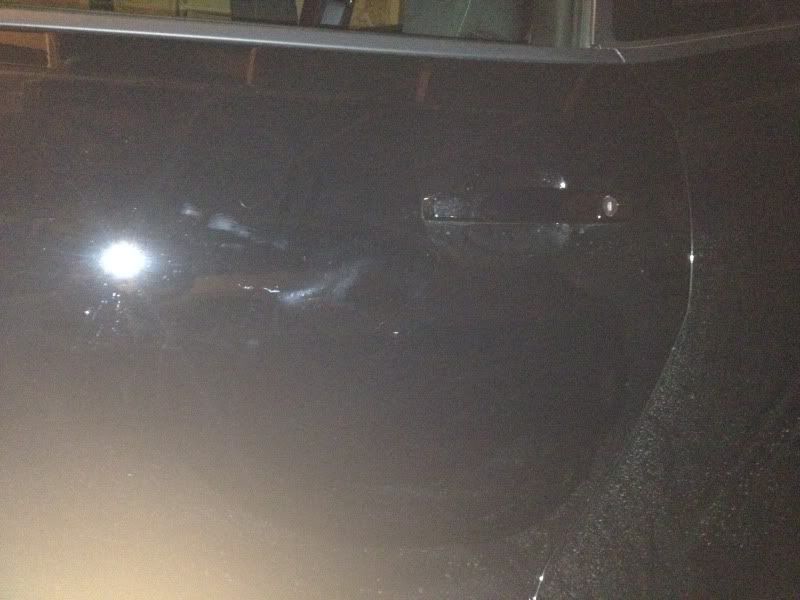 [/IMG]
There are companies that do small repairs like that. The sometimes do curb service. You might want to look them up and get a quote. One is the Ding Doctor.
---
WRS
"Knowledge is knowing a tomato is a fruit; Wisdom is not putting it in a fruit salad."
Premium Member
Join Date: Aug 2008
Location: Pennsylvania
Posts: 6,223
---
James 1:25 Ordered from Faulkner Chevy #NKCF02 1100 5/8/9 2000, 3300 7/16/9 TPW 7/20,GOT MY (low) VIN! 4000 7/24/9 ,Picked up 8/7/9!!! Signed Litho #45. Car signed by FBodfather 2011. Service: Jennings Chevy in PA. We don't "drift", kiddies... we
POWER SLIDE!
MOTM/COTM Sept 2012
Pro Patria Vigilans
.
Click the pic.. I don't tolerate fools.
I've heard about that also. Haven't tried it. I use Automotivetouchup.com products myself. I use a tooth pick to place a little paint on the chip and then a dollop of clear coat. Then wet sand the dimple down with 3000 sandpaper followed by 3M finishing compound. Hard to tell it's there. The paint on cars leaves a lot to be desired nowadays.
Another way would be to uses a photo shop picture editor.
---
WRS
"Knowledge is knowing a tomato is a fruit; Wisdom is not putting it in a fruit salad."
---
Last edited by wrbear; 03-18-2012 at

10:46 AM

.
Veteran Member
Join Date: Sep 2009
Location: South Carolina
Posts: 4,977
Check with your dealer. My dealer has a guy who comes around every Thursday and takes care of boo-boos. I used him to repair a tear in my rear bumper cover.
---
2017 Camaro SS
South Carolina
Junior Member
Join Date: Jan 2012
Location: NRH TX
Posts: 81
Ouch..ours has a good door ding on the edge of the door grrr..its sooooo very hard to keep daily drivers ding free..
I agree with the posts above, try a company like "flexadent". I also ordered some automotivetouchup.com paint pens for my vehicles. I haven't tried the one on the Camaro yet though.
---
2011 Synergy Green Metallic 1SS Camaro:
RS Package, White Ralley Stripes, Premium Sound.
Mods; Flowmaster Exhaust, Vararam CAI, Pfadt Sport Suspension, Budnik "Ice" Wheels, Nitto Invo tires
Upcoming Mods; Custom grill and badging.
Veteran Member
Join Date: May 2009
Location: Crestview Fl
Posts: 2,495
Just bought this kit for my car, I have a few chips and will use it soon and post a review and some before and after picts...
---
2013 LT2/RS, Crystal Red Metallic, TAZ Jr.
2016 H-D Ultra Classic, Black Fire Purple, (PPE)
2015 H-D Street Glide, Superior Blue. (Old Blue) Traded
2012 Big Horn, RAM, Crew Cab, SLT, Dark Cherry Red Pearl (Betty Boop)
1998 Honda Accord 2d, daily driver.
Like the others said, ask for recomondations for a good PDR (Paintless Dent Removal) person in your area, the touch up depends on color, some metalics can be hard to match, black, white are easy.If you are just useing normal touch up paint get it from the dealer, even tho Duplicolor makes everybodies touch up paint finding the right match will be easier there. If it has a "pen" dont waste your time with that, the brush in the cap works way better, it its a really small chip get a little paint on the end a toothpick and use that.
---
2010 Camaro 2lt Black
2003 Ford F-150 Harley Ed. Black/silver, supercharged
2008 Honda Accord Coupe V6 Polished Metal
1972 Buick Skylark Conv. Firemist orange