Join Date: Apr 2006
Posts: 25
HOT ROD Magazine states Camaro is Confirmed for Production
---
Here is "quick quote" buried on the bottom of page 42 of the August issue of HOT ROD Magazine:

"And for those of you who might say, 'Well, the Challenger has 35 hp more (than the Camaro's 400),' I would just reply that we have a certified 100 more on tap from the Z06 engine, should the need arise."

-Bob Lutz on the Just Confirmed for Production Camaro Concept.

Is this just magazine hype or is there something to this?


Greg
Join Date: Jan 2006
Posts: 863
Considering magazines have a 2 month delay in the time they go to press and the time you can read the issue, I'd say this is more magazine taking things out of context.

There still is no official announcement and when there is the internet will break it long before a magazine can.
Join Date: Apr 2006
Posts: 25
I tend to agree... the GM High Performance cover and article were laughable in their inability to name sources.

The two things that make me think on this one are:

1. the quote is attributed directly to Lutz
2. Little blurbs like this one can be squeezed into a magazine at the last minute and don't require the 2-3 month lead time that a real article does.

Since all the rags (and I subscribe to too many of them) tend to print the same articles and rehash the same news, I am curious about this quote, as I haven't seen it before. Anybody know what the original source interview was? If HOT ROD took it out of context, I would still like to know what the proper context was...

Greg
---
Last edited by 67 Rally Sport; 06-21-2006 at

04:05 PM

.
Join Date: Jan 2006
Posts: 863
Its still not a "confirmation" That quote has popped up several times since NAIAS:
http://www.5thgen.org/forum/showthre...highlight=lutz
I'm not sure that's the right quote but I read that 100 more hp on tap statement 3 mos ago and nobody was leaping up and down saying it was a confirmation.
Not trying to rain on your parade, but just saying that quote was not missed by the internet, its been discussed.
I still love the quote, should the need arise, YEAH!!!!!
---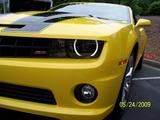 2010 Camaro RS SS LS3 (Bumble Bee) Vin#192 & 8 others made by GM and one Christine
Join Date: Jan 2006
Posts: 187
yeah, I caught that too but figured it was just magazine madness again...
Senior Member
Join Date: Mar 2006
Location: Dixon IL
Posts: 861
well they just want to sell magazines and if Bob Lutz feels the camaro is threatened by the challanger I say just bring it!
Join Date: Apr 2006
Posts: 25
The idea of a LS7 is a nice one. As far as worrying about the challengers extra 35 horse power, those horses are probably more than taken care of by the extra weight. That thing is a pig!

Between then and now, I also expect to see a new engine out to replace or complement the LS2. Right now, GM has the L92 in the Escalades, which is a 6.2L all aluminum block with heads that borrow design elements from the LS7 Heads. The flow on these things is HUGE. Due to the revised port design (no more cathedral ports!) a new intake had to be created, and right now, the only one available is a butt ugly truck intake, but I hear that a low profile car intake is in the works and will be out shortly. Rumor is that a 6.2L variant of the L92 will be powering the 2008 Corvette. Think 435 - 450 hp. Slap the GM "Hot Cam" version of the LS7 cam in and you should be good for 550 plus. Sick, ain't it?

Greg
Join Date: Jun 2006
Posts: 12
Everyonw getting hyped about that quote!!!!

Bob lutz said that in the fastlane Blog many months ago a couple days after the camaro concept debuted!!!!

that really old news!!!!! kind of funny though

I think they approve it for production very soon