Camaro disciple story,,#1
---
---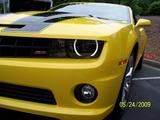 2010 Camaro RS SS LS3 (Bumble Bee) Vin#192 & 8 others made by GM and one Christine
Veteran Member
Join Date: Oct 2008
Location: Wetumpka, Alabama
Posts: 8,645
awesome write up
and thank you for being a voice for us peeps
---
2014 2LT/RS with spring edition package. Proud Litho Owner #28.
Premium Member
Join Date: Apr 2010
Location: Hurst, Texas
Posts: 4,361
That was great! Thanks for being there for all of us!!
---
2010 2SS/RS A6 L99 Born 09/16/2009 Vin#9146985
ModernCamaro Car of the Month Jan 2013
CAI,Axle back exhaust, V Max Throttle Body
Nice write-up! I remember Selena and her hearses. She also likes to dress up for halloween with her friends. She is cool.
---
Silver Ice Metallic 2013 Camaro 2LT
Born 7/29/2012 Delivered 4/24/2013
CyCam1