Camaro Disciple story,,2
---
---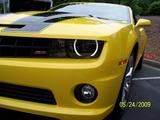 2010 Camaro RS SS LS3 (Bumble Bee) Vin#192 & 8 others made by GM and one Christine
Veteran Member
Join Date: May 2009
Location: Crestview Fl
Posts: 2,495
Thanks for sharing never knew you were one of the "12", really cool..
---
2013 LT2/RS, Crystal Red Metallic, TAZ Jr.
2016 H-D Ultra Classic, Black Fire Purple, (PPE)
2015 H-D Street Glide, Superior Blue. (Old Blue) Traded
2012 Big Horn, RAM, Crew Cab, SLT, Dark Cherry Red Pearl (Betty Boop)
1998 Honda Accord 2d, daily driver.
Premium Member
Join Date: Apr 2010
Location: Hurst, Texas
Posts: 4,361
Thanks for sharing her story...she is a neighbor and fellow club member!
Lonestarcamaro.com
---
2010 2SS/RS A6 L99 Born 09/16/2009 Vin#9146985
ModernCamaro Car of the Month Jan 2013
CAI,Axle back exhaust, V Max Throttle Body