The Camaro Concept Car: The Critics' Choice
---
Source:
http://media.medialink.com/WebNR.aspx?story=32326
August 25, 2006 12:00 PM US Eastern Timezone
VIDEO from Medialink: The Camaro Concept Car: The Critics' Choice
--(BUSINESS WIRE)--It may have been the worst kept secret in Detroit. Would General Motors green light the Camaro concept car that wowed industry insiders at this year's North American International Auto Show in Detroit? Well, now it's official -- GM will build the Chevrolet Camaro.
(See video at:
http://media.medialink.com/WebNR.aspx?story=32326
)
Many in the automotive industry will tell you the Detroit automakers have one distinct advantage over the rest of the world -- and that's history. Nameplates like Mustang, Corvette and Challenger were synonymous with automotive excitement before anyone in America had heard of Honda or Nissan. But, that also adds pressure when bringing back a hallowed name. So far, the reaction to the Camaro has been as good as any company could hope.
GM hopes to bring the Camaro to market in early 2009.
Join Date: Aug 2006
Posts: 24
Nice video, thanks.
I sometimes wonder what Mr. Lutz thinks about when looking back at 2001 when he was quoted saying the Camaro and Firebird are done at the end of 02 not to ever be revived. Later stating that the "F" car is dead forget about it ever coming back.
The people have spoken
The Challenger will be one heavy car from what I hear.
EXCELLENT!!!!!
---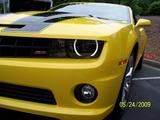 2010 Camaro RS SS LS3 (Bumble Bee) Vin#192 & 8 others made by GM and one Christine
Senior Member
Join Date: Mar 2006
Location: Dixon IL
Posts: 861
yea well I am sure there will be plenty who will be upset at their choice of buying somethingf other than the camaro!