Local article on 5th gen
---
---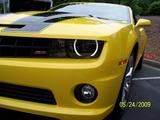 2010 Camaro RS SS LS3 (Bumble Bee) Vin#192 & 8 others made by GM and one Christine
I really like this pic of the concept. I think it shows an aggressive mean look that is Camaro.
---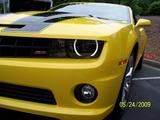 2010 Camaro RS SS LS3 (Bumble Bee) Vin#192 & 8 others made by GM and one Christine
Looks like a pic from the parade lap on the Tech Center after the Aug 10th rally.
The media is going crazy over the car since the announcement
Join Date: Mar 2006
Posts: 572
the only thing that i didnt like bout this post was when active fuel management was mentioned that will be the only thing im not going to like about my future toy other than that its a really good article
I don't want it either! I hope there is a option to not have active fuel management!
Ya but can you shut the fuel management systems off like you can do on the chargers?
being able to shut them off would be good too!
Why would you not want an "MDS" system like my charger??

You still have all of the power exactly when you want it and when you dont need the power i.e. cruising on the freeway cylinders shut down and save you gas.

In my car the response is instant and seamless.

The only way to turn it off in the Charger is to use autostick mode on the tranny. I can quite figure how it would work with a manual transmission.

Its a good thing to have and a great selling feature for buyers looking for a little bit of "green" with thier muscle.
---
2006 Dodge Charger Daytona

Top Banana! 0653 of 4000
Join Date: Mar 2006
Posts: 572
One. Wheres the bowtie bud?
Two. Ive driven charger like the one you where talking about and its not as perfect as u would have it.
Three. If someone wants to drive with a greenthumb, they should get a cobalt or a civic.
If i buy 8 cylinders, i want 8 cylinders at all times. Active Fuel management is going to add another couple thousand on an already expensive price, not to mention if something in the system malfuctions
$ cause stuff like that always tears-up at a bad time