Newbie
Join Date: Aug 2014
Posts: 5
Anyone with a 2014 and ground effects running Quad Tips ? ? ? ?
---
I'm planning to and picked up quad 4". But the look to wide for the ground effects opening. They are 8.5" wide over all side to side.

What side are you running? Photos?
Bully Proof
Join Date: Apr 2010
Location: Dallas, TX
Posts: 7,086
They are way too wide. If you want to make those quad 4" tips work it will require a DIY on the rear diffuser and most people aren't brave enough to start hacking on their body parts so there aren't a lot of pictures out there.
---
Life is Good!
2010 SYNERGY GREEN 1LT/RS
ModernCamaro Car of the Month Nov 2010
Camaro5 Car of the Week Jan 31 2011
Senior Member
Join Date: Jan 2013
Location: Sayreville, NJ
Posts: 529
try to find a 2014 diffuser from an SS with the NPP exhaust
---
Order #: VBBDZ1
2017 Camaro ZL1
Hyper Blue Metallic A10, PDR, NAV, Premium floor mats
Ordered: 12/26/16
March 2014 Member/Car Of the Month
Newbie
Join Date: Aug 2014
Posts: 5
Could Quad 3.5" work? they are 7.5" wide total.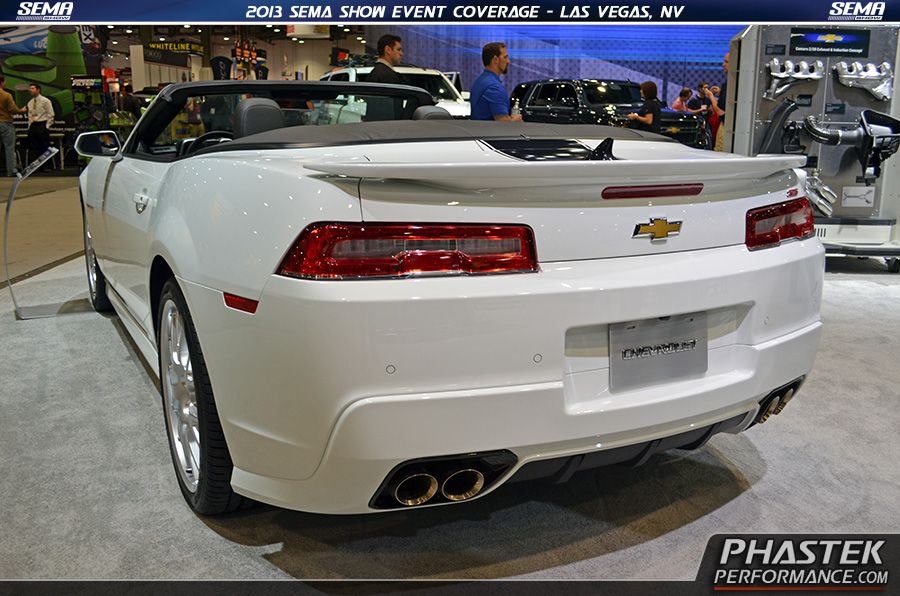 Newbie
Join Date: Aug 2014
Posts: 5
The above is the 2014 ground effects kit
yes the spring special edition has dual mode
---
2013 2ss/rs NPP CRT, Forged 428 ls3 stroker, Mast windage, GMPP ported heads, Katech chain, Trunnion upgrade, Cam motion stage 3, SP headers, Vmax PTB, Monster c7 dual clutch, Mgw shifter, Fluidampr 25%UDP, CAI induction, rocket racing wheels, clutch reservoir, bmr toes and trailing arms, Lpw diff cover , scanner, drl's led /fogs, elite catch can, MRT louvers, tint, ZL1 spoiler, stripes & badging, etc....
The Spring Edition looks awesome!
---
2011 SummitWhite 2LT/RS (SOLD)
2010 Black 2LT/RS (ZLRS) (Current)
ZL1 Appearance package, Flow Master American Thunder Cat Back Exhaust w/ QUAD TIPS, K&N Typhoon CAI, Ported VMAX TB, OEM GM Brembo Brakes Package w/ Hawks Carbon Ceramic Pads, Night Owl Halo Kit (WIFI), Rear Oracle Blue LED Bowtie, Oracle Ghosted Painted Side LED Markers.