ModernCamaro.com Founder / Former Camaro Disciple
Join Date: Jan 2006
Location: Chicagoland, IL
Posts: 11,842
Tell Lutz & GM to make it an F-Body!
---
Go to the GM Blog site:
http://fastlane.gmblogs.com/
Post comments telling them we want an F in the VIN number!
Long live the F-Body!
Interesting thought. Sounds better than GMX511 and GMX521
Great idea! Will do Tim.
Ed
---
'99 Camaro SS #1392

Onyx Black/Neutral leather;MN6;T-Tops

SLP Options: Performance Exhaust; SS Keys Fobs/Plaque

Mods.: SLP L/T's; SLP Y-Pipe; SLP Loudmouth; Random-Tech High-Flow Cats; PRO 5.O w/ Lou's Short Stick; MTI Airlid w/ K&N; Hotchkiss STB; OPTIMA Red Top
Senior Member
Join Date: Mar 2006
Location: Dixon IL
Posts: 861
it would be ok if it was a f body but does it really matter?
ModernCamaro.com Founder / Former Camaro Disciple
Join Date: Jan 2006
Location: Chicagoland, IL
Posts: 11,842
While it's true it will be a Zeta chassis, and not a F-car by name, having a F in the VIN gives us some heritage to hold on to, seeing as we've called the cars F-Bodies for so long.
yes, keep the camaro an f-body
---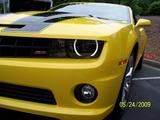 2010 Camaro RS SS LS3 (Bumble Bee) Vin#192 & 8 others made by GM and one Christine
They are gonna call it Camaro, keep it an F-body!
---
___________________________________
Current ride- 2013 Tahoe LTZ