Saleen to get more involved with the new Camaro?
---
Join Date: Jan 2006
Posts: 863
My guess is any involvement with Saleen rules out a resurgence in SLP involvement, which I find hard to accept knowing how tight Ed Hamburger & Co. are with GM.
I see room for both and more, auto companies are too greedy to limit it to one vendor IMO.
ModernCamaro.com Founder / Former Camaro Disciple
Join Date: Jan 2006
Location: Chicagoland, IL
Posts: 11,842
Wouldn't really suprise me, I've heard Roush is also interested in doing something with the car.
Can ya blame them though?
well is SLP going to look into gettin a special edition like they did with the trans ams?
---

*A Cars Only Purpose Is To Get From Point A to B. I Just Rather Get There In 13.2 @ 106
* Going Mustang Hunting... Be Back In 12 Seconds
www.fquick.com/Naute
<---- That's Me
http://fn-fasttown.myminicity.com
Join Date: Jan 2006
Posts: 863
I'm sure they'll try to get a piece of the action
as long as the car performs well and doesnt break a tranny or rear end the first time down the track i dont care who puts performance parts on them. as long as they work.
---
~Travis~
90 RS-383HSR, T56, NX wet kit
01 LB7 Chevy 2500 4x4. Programmer, 3" lift on 35s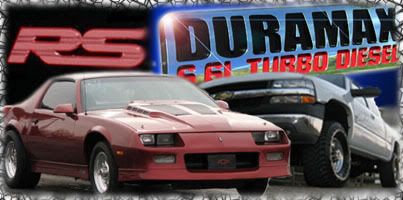 Senior Member
Join Date: Mar 2006
Location: Dixon IL
Posts: 861
well I am sure there will be many "tuner" cars out there but choosing the right one could be tricky!
yea. but im sure anyone who worked on the f-body's are highly recomended for this new camaro. or even who ever is recommended on the corvettes. sure you'll pay more for the better part but it's worth it in the long run.
---

*A Cars Only Purpose Is To Get From Point A to B. I Just Rather Get There In 13.2 @ 106
* Going Mustang Hunting... Be Back In 12 Seconds
www.fquick.com/Naute
<---- That's Me
http://fn-fasttown.myminicity.com