Join Date: Jan 2006
Posts: 863
LLN: Camaro may come sooner than expected
---
Source:
Left Lane News
[I would suggest heavy grain of salt taking on this]
Claim: production Camaro 12 months away; better than concept
In the September 25th episode of syndicated automotive radio program
Cruise Control Radio
, co-host Les Jackson claims to have seen a photo of the production version of the new Chevrolet Camaro. He claims to have spoken with GM engineer Dr. Terry Woychowski on Sunday at a press event, who showed him a photograph of the production car.
"It looks terrific," Jackson said. He claims the photo he saw looked "even better" than the
concept vehicle
show earlier this year. While this subjective assessment doesn't tell us much, it's safe to assume GM officials really meant it when they said the production car would be nearly identical to the concept.
Jackson also claims Dr. Woychowski told him GM was "in a real rush to get it out the door," and "don't be surprised if it's by this time next year." General Motors has
officially stated
the new Camaro will go on sale in the first quarter of 2009. Woychowski comments seem to suggest that date could in fact come at least 12 months earlier than expected.
Join Date: Jan 2006
Posts: 863
I just listened to Camaroz28.com's latest podcast....Chris Frez actually called Dr. Woychowski via phone, who adamantly denied ever making the statements to Les Jackson.
Yeah, I would be VERY surpised to see this car on showroom floors in 12 months.
Join Date: Jan 2006
Posts: 187
oh man, sombody's going to come in here and make a one-liner about the sooner the better...
Wait for it!
Quote:
oh man, sombody's going to come in here and make a one-liner about the sooner the better...
Wait for it!
Join Date: Aug 2006
Posts: 7
ok ok I fell for it. the sooner the better. at least for me. get the freakin bugs out of it so I can get one bug free and with some new stuff that wasn't available on the first year or 2.
it would be nice, but i dont see it happening. i can be patient.
---
~Travis~
90 RS-383HSR, T56, NX wet kit
01 LB7 Chevy 2500 4x4. Programmer, 3" lift on 35s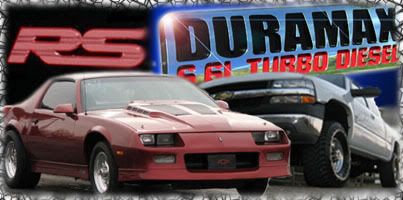 Junior Member
Join Date: Jun 2006
Posts: 20
eh....if it's true so what. i still won't get one until probably 08 or 09. i don't want it because it's the "hot" thing to have. i don't care when i get it, although around my planned purchase time would be nice. i don't care if when i get it the frenzy around it has died down or not. i'll just be happy driving my new camaro regardless
same here. like all those 40 year old people bout the 04 gto being disappointed with the car cus of the simple styling and the wheel hop, but they bought it cus it was "cool" but then they came out with the better 05, with a bigger engine and all. it's not worth buyng the first year, cus they can change anything and atleast they can work out the bugs if there are any.
---

*A Cars Only Purpose Is To Get From Point A to B. I Just Rather Get There In 13.2 @ 106
* Going Mustang Hunting... Be Back In 12 Seconds
www.fquick.com/Naute
<---- That's Me
http://fn-fasttown.myminicity.com
ModernCamaro.com Founder / Former Camaro Disciple
Join Date: Jan 2006
Location: Chicagoland, IL
Posts: 11,842
Well, Camaro will be built in Oshawa, and seeing as the W-bodies that are being built in Oshawa now are being built through MY2008, the announced Camaro production date (4Q08) is really the earliest it can happen.
But it'll be worth the wait.
Getting a better quality car is worth waiting for!