Exhaust
---
Ok everyone suggestions on a cat back exhaust system. It's a muscle car suppose to sound like one. Something with a good sound but don't drive you crazy cruising. Also who has the best air induction thinking K&N
K&N is not the best. But when you factor in price, then what you get out of it makes it not too bad. As far as intakes, there are different types. And the thing is, everyone will simply recommend the brand they particularly purchased. What you wanna find out is WHY a person bought their particular brand, what advantage it has over others, and how it functions. With that said, I chose Vararam ram air intake because it mounts right in front of the engine and takes in air coming straight into it. Therefore of all the intakes it has the straightest, most direst, and shortest path for air to get to the TB. With it you'll have intake temps closer to ambient than any other intake can match. So while moving it'll outperform other intakes. But there are other brands and styles that are good. CAI, Airraid, BBK, to name a couple. Even some of the less popular brand name intakes are great!!
---
2017 Camaro ZL-1 A10

2013 Jeep Grand Cherokee Hemi 5.7 - Tuned!!

Proud to be the March 2013 Member Of The Month!
And as far as exhaust, it depends on if you want headers (ST or LT), full catback, axleback, what size, how much you have to spend, etc. Give us a few more ideas of yours or details on what exactly you want out of the car and we'll go from there. But for just a cheap and decent sounding exhaust with no muss no fuss, I'd recommend a Flowmaster axleback or a GMPP axleback.
---
2017 Camaro ZL-1 A10

2013 Jeep Grand Cherokee Hemi 5.7 - Tuned!!

Proud to be the March 2013 Member Of The Month!
depending on the exhaust you have if your a automatic ditch the suitcase resonator, that will make a big difference there as headers really do more. However headers require a tune and void the drivetrain warranty. Chapel has a early Camaro which can have a OTR (over the radiator) intake which by tilting the radiator on 2010-2011 Camaro Vararam made for them. There are many choices for others though, like he said, many choose rotofab also is another big name for intakes though I chose CAI with a relocate of the windshield washer fluid tank and a scoop to help get air up from the lower grill. It also ceramic coated and the air box is insulated and attractive for a intake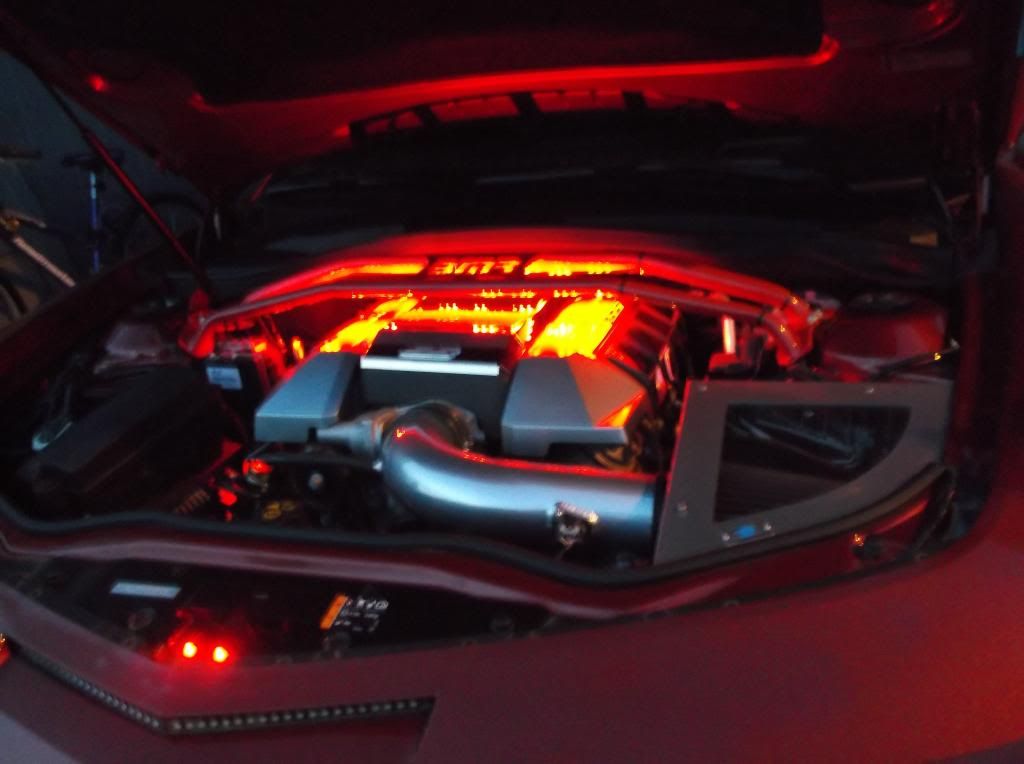 There is a thread about the performance of intakes, the vararam is good, and behind it would be the cai, then the rotofabs and airraids etc CAI is supposed to free up about 15-16 hp. You should go online and listen to exhaust clips on utube...
---
2013 2ss/rs NPP CRT, Forged 428 ls3 stroker, Mast windage, GMPP ported heads, Katech chain, Trunnion upgrade, Cam motion stage 3, SP headers, Vmax PTB, Monster c7 dual clutch, Mgw shifter, Fluidampr 25%UDP, CAI induction, rocket racing wheels, clutch reservoir, bmr toes and trailing arms, Lpw diff cover , scanner, drl's led /fogs, elite catch can, MRT louvers, tint, ZL1 spoiler, stripes & badging, etc....
Member
Join Date: Jul 2013
Posts: 166
Quote:
Ok everyone suggestions on a cat back exhaust system. It's a muscle car suppose to sound like one. Something with a good sound but don't drive you crazy cruising. Also who has the best air induction thinking K&N
Hello, we use the Livernois/Corsa products on most of the cars we do here at the shop as well as in most of our mail order packages as well.
This is the only system we can send out with confidence that the end user has no cabin drone.
K&N makes great product.
K&N is only in the air filter/cold air business the product they make is designed to work the best on a o.e. vehicle.
If you have future mods in mind for the car you need to keep that in mind.
This is what we would would start out with on a o.e. vahicle
2010-2015 Camaro SS Bundled Package - Livernois Motorsports
I too run the CAI intake system. It's a clean install and it looks great under the hood. I also read that it provides good gains in HP. I've also read that the 2nd "best flowing" air intake system is....the factory air box. As for a no drone exhaust, I concur with Livernois about the Corsa. I had their Sport Cat Back on my 2005 C5 Vette with long tubes and there was no drone whatsoever. Another option you may want to consider is the factory dual mode exhaust. I have that on my Camaro with Stainless Power long tubes and the sound is pure muscle. Quiet when cruising, and when the flaps open under power it sounds amazing. Either would be a good choice.
---
M6Driver
2015 2SS LS3 M6
Long Tubes w/Cats
CAI Air Intake
Elite Catch Can
Tuned
Junior Member
Join Date: Mar 2015
Location: SC
Posts: 29
Member
Join Date: Jul 2013
Posts: 166
"Another option you may want to consider is the factory dual mode exhaust"
This is a good option to a point as long as your project isn't going to exceed the flow of the factory parts.
There are many cold air intakes on the market. Two of the best are CAI and Roto-fab. Personally I went with Roto-fab. I had one on my G8 and loved it, then when I got my Camaro I couldn't wait to replace the one that came on my car from a previous owner with it. High quality intake, expert matched painted heat shield, and great performance. Love it.

As for exhaust systems, there are two guaranteed drone free systems, Corsa and Solo. I went the Solo Performance route and couldn't be happier. I have an automatic car and the AFM isn't noticeable with the Solo Mach XL catback. It is tame while cruising, but gets loud when you get on it, really sounds like a Camaro should. Also, if you want to take it up another notch, long tube headers with or without cats makes the car really scream!

Other great systems are Stainless Works retro chambered catback and Borla Atak. Both are top notch systems.
---
'10 Camaro 2SS/RS | Aqua Blue #823 of 3903 | Silver Stripes