PROUD to be an American
---
I love the camaro, I apologize for being off topic, I do not do this often......
I am consistently hearing about some service men and women who are bitter to their superiors and the "brass" in the service. Many who think they speak for all of us..I agree, Iraq sucks, sucked and will continue to suck because we arent in our own beds. 9 out of 10 of us, however, will agree it is getting much better, safier and prosperous.....I don't know about you (servicemen or not), but this makes me proud to serve you, this country, and **** proud to live in the greatest country in the world...
-------------------------------------------------
Largest Re-enlistment Ceremony in U.S. History.
I'm sure you already know about this. It was shown over and over on TV, right?
OK, so maybe it wasn't shown over and over, but surely it was shown on TV at least one time, wasn't it ?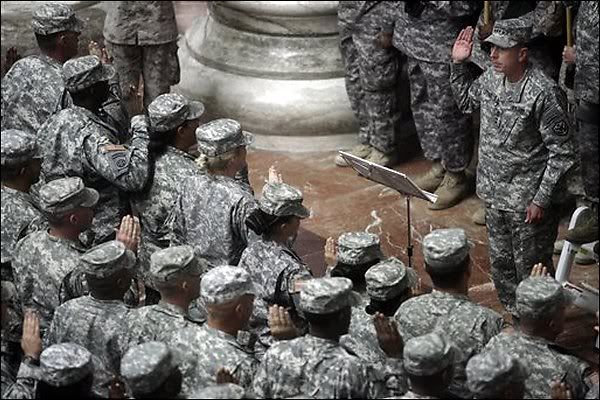 <br>
<br>
<br>
----------------------------------
This was the largest re-enlistment ceremony ever held in military history. The ceremony was held on the 4th of July, 2008 at Al Faw Palace, Baghdad , Iraq . General David Petraeus officiated. This amazing story was ignored by the 'mainstream' media.
For those who have been in the Al Faw Palace, you'll have a better appreciation of the number of people crammed around the rotunda supporting the re-enlisting soldiers.
American men and women volunteering to stay longer in Iraq, so that when we leave, the new democracy will have a chance of surviving, is the exact opposite of what the media wants you to think about Iraq. If only a bomb had killed 5 civilians in a marketplace - now that's the kind of news the media is eager to tell you about.
A pizzeria in Chicago donated 2000 pizzas that were made and shipped to Baghdad , and were delivered on the 4th.
The media did report that 2000 pizzas were sent to Iraq on July 4th... The only part they left out of the report was the event for which the pizzas were sent.
I can't help but wonder...
What would the opinion of Americans be if they weren't getting such obviously biased 'news?'
---
Last edited by brantley847; 10-01-2008 at

11:40 AM

.
thats kool and it gives me "goosebumps"
---
Quote:
Facebook has sucked me into Farmtown.

What can I say I love virtual plowing.
ModernCamaro.com Founder / Former Camaro Disciple
Join Date: Jan 2006
Location: Chicagoland, IL
Posts: 11,842
That is simply awesome!
Thanks so much - mad props to all serving in the armed forces!
Thankyou, Brantley, for reminding us all of the real truth. I couldn't agree with you more!
---
Bob Lutz: "There's no doubt that a design-driven philosophy is the only one that will work. People who are not sensitive to design, people who don't care about vehicles, people who view a vehicle as an appliance, they just default to Toyota. We will never win that one."
Join Date: Jul 2008
Posts: 31
As a service member, thanks to everyone for your support. I can't tell you how good it feels when someone comes up and thanks me for serving. I serve for my country, not for any recognition.
Join Date: Sep 2008
Posts: 178
Quote:

I can't help but wonder...

What would the opinion of Americans be if they weren't getting such obviously biased 'news?'
I took a mass communications class last year that really opened my eyes to the war and government in the news. Think about it, the average joe back here going about normal business in the states tunes into the 5 o'clock news while sitting back to a TV Dinner.
But think about it ...
we only know what they tell us. what they dont tell us, we have no clue. if the govt doesnt want something reported, all they have to do is say no. its jsut something crazy to think about how much the media influences our lives.
p.s. major props to serving. i have many friends in the military and my grandfather was very high up in the air force as well. I appreciate every breathe an american soldier takes.
Join Date: May 2008
Posts: 318
hurah.
Banned
Join Date: Jun 2007
Posts: 4,153
LOL There are reasons the largest re-enlistment ceremony ever would be in Iraq and it has nothing to do with politics.
I never knew about this until now. That is what pisses me off about the media. Why can't we see normal history making stories or even just things going on in general? Why does everything have to be doom and gloom?
---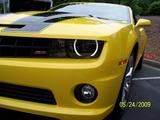 2010 Camaro RS SS LS3 (Bumble Bee) Vin#192 & 8 others made by GM and one Christine
Banned
Join Date: Jun 2007
Posts: 4,153
The only reason this story is even making headlines now is to bolster McCains run for President.