View Poll Results

: Tell us if you've ordered!

Completed an order with a local dealer
12
27.91%
Completed an order with an out of state dealer
1
2.33%
Still waiting to place an order
4
9.30%
Waiting 'til next year
26
60.47%
Voters: 43. You may not vote on this poll
POLL: Who's Ordered Already?
---
How many folks have already got orders in or are still waiting?
---
Last edited by weland; 10-14-2008 at

02:45 PM

.
ModernCamaro.com Founder / Former Camaro Disciple
Join Date: Jan 2006
Location: Chicagoland, IL
Posts: 11,842
I ordered from a local dealer yesterday.
I'm in...ordered this morning w/ a local dealer.
---
2010-2SS/RS/LS3/IBM/RP6:
ECS-Paxton Supercharger / American Racing Headers & Exhaust / PFADT Suspension / DSS 9" 4.10 Rear / FOR SALE!
Quote:
Powerfreak is the only one who actually understood anything.
I'm waiting until I hear about the Z/28. I'm keeping the faith.
I'm waiting 'til a sack full of money falls into my lap. Barring that, it'll be this summer hopefully.
---
Quote:
The Camaro is 100 hp past its competition. The V6 is running with the top of the competition. In other words, if these cars are the whipped cream and the lower trims are the shake, the Camaro V6 is the cherry on top, and the Camaro SS is the person eating the whole ****ed thing.
-The_Blur
Veteran Member
Join Date: May 2008
Location: Windsor
Posts: 4,533
I'll probably wait 'til 2012 or'13 model year, as I'm broke........
---
┌∩┐(◣_◢)┌∩┐
Quote:
I'm waiting until I hear about the Z/28. I'm keeping the faith.
---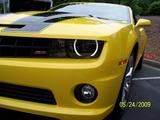 2010 Camaro RS SS LS3 (Bumble Bee) Vin#192 & 8 others made by GM and one Christine
Junior Member
Join Date: Jun 2008
Posts: 45
I couldn't wait...

Order for my 6A IOM 2SS/RS w/ IO interior trim and factory CGM stripes was put in yesterday. As much as I would like to have the sunroof I wasn't willing to lose the reverse mohawk to get it. Now the REAL wait begins!
I'm waiting for a Pace Car, convertible, or an even more powerful V8 option. Once the intial buyers get theirs, pricing should be better as well.