Camaro Mods
---
Alright, i know the Camaro will be a rocket out of the box, but what do you plan on doing to it within the first year?
I plan on doing a cut out exhaust, long tube headers, engine bay dress up
but my project will be to set it up for a whipple blower
once u go blown u never go NA
---

*A Cars Only Purpose Is To Get From Point A to B. I Just Rather Get There In 13.2 @ 106
* Going Mustang Hunting... Be Back In 12 Seconds
www.fquick.com/Naute
<---- That's Me
http://fn-fasttown.myminicity.com
No mods. for me!
My plan is to wait awhile after it goes on sale, and then order the "top dog".
My SS is payed off, and seeing as I plan on keeping it as well, if I want to continue to "mod." anything, it'll be my current SS.
---
'99 Camaro SS #1392

Onyx Black/Neutral leather;MN6;T-Tops

SLP Options: Performance Exhaust; SS Keys Fobs/Plaque

Mods.: SLP L/T's; SLP Y-Pipe; SLP Loudmouth; Random-Tech High-Flow Cats; PRO 5.O w/ Lou's Short Stick; MTI Airlid w/ K&N; Hotchkiss STB; OPTIMA Red Top
heads/cam, N20.
---
~Travis~
90 RS-383HSR, T56, NX wet kit
01 LB7 Chevy 2500 4x4. Programmer, 3" lift on 35s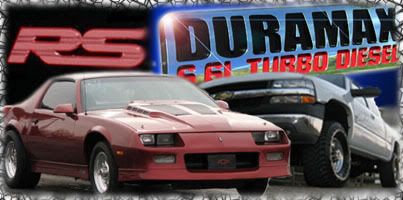 ill be lucky to make the payments.... so no modding here, the 86 will actually receive less attention once i have one, but its already baddd asssssssssss so im not worried
---
1986 Camaro Berlinetta (originally)-now a nitrous breathing 383 stroker
1992 Camaro RS - pretty much stock (only to keep its 25th anniversary edition book value)
all the other Camaros were sold
I'll do typical cai, exhuast, etc. as soon as i get her. Then i'll have to decide between the bottle or a roots-type blower.
---
1998 White Buick Regal GS
2002 Electron Blue Corvette Coupe
2007 Honda Accord Coupe
2009 Silver Metallic Chevy Tahoe
2011 Convertible Camaro SS comming soon!
ModernCamaro.com Founder / Former Camaro Disciple
Join Date: Jan 2006
Location: Chicagoland, IL
Posts: 11,842
I really HOPE that I can leave it stock.
I'll be looking for wheel/tires, exhaust, cam swap, and re-tune any torque management out of the parameters.
If I end up with one, it will see a nice tune and maybe an exhaust update. Depending on the wheel selection, those would be replaced as well
Join Date: Dec 2006
Posts: 35
Hope to start the engine project in '07. LSX block low comp twin turbo. If tuning is unavailable for 5th gen. will go stand alone.