Join Date: Sep 2006
Posts: 134
What would you order?
---
Imagine it's Nov 2008, you've just walked into Wetdream Chevy and are going to order a 2009 Camaro.

It's the future so $$$ is no object, and Sam Slick will order anything that's in the GM order binder sitting on the table in front of you. You look down and ...

Mine would be:

Z-28 convertible
(1980 Corvette) yellow
black top
dark grey leather interior
427 ci small block fuelie
3 1/2 inch duals
6 speed stick
5.13 gears with manual override traction control
20's with 335's all around
HUD display
Dark Blue
V8 Convertible
black top
Automatic or manual - not sure yet
Dark leather interior
Join Date: Nov 2006
Posts: 5
Hugger Orange SS
Dark Leather Interior
Manual
HUD
biggest engine option and delete everything to save weight and i'd probably get an auto
---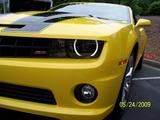 2010 Camaro RS SS LS3 (Bumble Bee) Vin#192 & 8 others made by GM and one Christine
ModernCamaro.com Founder / Former Camaro Disciple
Join Date: Jan 2006
Location: Chicagoland, IL
Posts: 11,842
Hmm, gonna have to think about this for a while....

I know I'll get a Z28.
Probably an automatic trans.
Leather interior.
I like gadgets, so it'll probably be loaded.
Not sure about color, the car looks good in any color though!
Something that I can beat on BMW's with at track days then drive it home comfortably or go to Bowling Green in and still walk when I get there.
Super Moderator
Join Date: Jan 2006
Location: NY
Posts: 434
Big motor, Hugger Orange, and a 6 speed stick
Join Date: Dec 2006
Posts: 14
I would have to go with hugger orange or ralley green I think they call it with the biggest v8, six spd and not worried about the rest.
Senior Member
Join Date: Mar 2006
Location: Dixon IL
Posts: 861
black, biggest engine available, fully loaded, leather, of course a 6 speed!