Join Date: Jan 2008
Posts: 31
Dealer telling me I cannot delete Onstar
---
Looks like the new advertising of Nav "Directions and Connections thru Onstar" in every car will effect the Camaro. My dealler told me I cannot delete the Onstar. Looks like ugly antenna on the roof no matter what....
isn't onstar standard on all new GM cars?
---
2010-2SS/RS/LS3/IBM/RP6:
ECS-Paxton Supercharger / American Racing Headers & Exhaust / PFADT Suspension / DSS 9" 4.10 Rear / FOR SALE!
Quote:
Powerfreak is the only one who actually understood anything.
Yup, a sad waste of resources...it took me a while to find a 2006 GMC truck without the "DeathStar" option.
---
2010 2SS/RS Auto, Sunroof, Engine Cover. Transformer Edition package.
2013 ZL1 ragtop #5478. 1 of 54 CRT M6 'verts.
It is a great resource for some.
Personally, I don't find it useful enough to justify the cost, but quite a few people I know use it regularly.
Regarding the antenna, there is always a quick trip to your local body shop to remove it
I don't really care for other features, but I do love using directions and connections.
---
1998 Camaro A4 7.06 @ 96.5 MPH NA 1.47 best 60ft
2010 Camaro Tube Chassis work in progress
Join Date: Jul 2008
Posts: 36
Quote:
why do u want to delete it?
Can't speak for him, but it sounds as if the lump on the roof is the issue.
Quote:
why do u want to delete it?
i wouldn't want Onstar because i don't like the feeling of people knowing exactly where i am at all times. i don't know how it works, but isn't there some sort of mic in the car that allows you to talk to the Onstar people as well? i don't need hidden mics in my car either.
---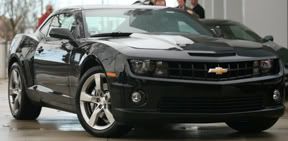 We have OnStar in our Silverado SS. I don't need the directions part of the service so we don't pay for that. I do like the basic service because it gives you the option of having phone service. The phone works ANYWHERE the truck has reception for the satellite radio. Cell phones don't work everywhere so this is the part of OnStar that keeps me as a customer. One phone call could be worth the entire amount I have and will pay for this service.
---
Current vehicles:
2011 2SS/RS IMB. Polished wheels.
2000 SS Camaro White w/t-tops
1968 Camaro Coupe Maroon
1989 IROC Z28 Convertible Red w/Black top
2005 SS Silverado Black
Oh, I don't even notice the ugly antenna any more!
---
Current vehicles:
2011 2SS/RS IMB. Polished wheels.
2000 SS Camaro White w/t-tops
1968 Camaro Coupe Maroon
1989 IROC Z28 Convertible Red w/Black top
2005 SS Silverado Black