Old
05-10-2009, 05:34 PM
Thread Starter
#192 is HOME!
---
ok, guys... boy, do i have a story and pics for you!
[edit: IT WAS TOTALLY WORTH THE WAIT!!! i have already forgetten all about the wait. we are in love with this car and can't stop grinning from ear to ear every time we even look at it. for those of you still waiting, HANG IN THERE! believe me, the wait will be a distant memory once your baby is home!]
so yesterday morning, we were hanging out in Dallas (after spending all day Friday stalking Camaros at the rail yard
). we go get some breakfast at Denny's. we knew Eric had a sales meeting until 8:30... we're done with breakfast at 8:15... sooo, we decide to go cruise over to the rail yard and stalk the Camaros again to see if our car had left.
we get over there and the yellow and silver Camaros we had found are still sitting there. at this point we are bummed, but hopeful that the car will get on a truck sometime that day (Saturday).
we are heading back to Classic and we are about 2 miles away when i get a frantic call from Eric saying the Camaro just arrived on a truck!!! i'm like WTF? we just saw it at the rail yard thinking he's just pulling my chain. he swears he's serious. so now i'm thinking all this time we were stalking the wrong **** car
and that's exactly what happened. we haul ass to the dealership and the truck driver is just getting ready to unload. Scott snaps some pics while i take some video (will post later).
Eric makes sure the car is inspected, the recall done, and then left alone. we go sign the paperwork. get some goodies from the parts department
and go load the car on the trailer. Scott does a burnout right before we load (i got video i'm gonna post up later too) and we get the car on the trailer.
while we are loading the car, a few people stop by to look... and boy, that was just the beginning. we say our farewells to Eric. that guy is THE F'ING MAN!!! and roll out. by trailering the car i think we got a better view of people's reactions and boy, it was AMAZING!
the whole ride home i basically sat looking backwards to see what people were doing. they would cruise up next to the trailer and hang there to get a good look. tons of people were pulling out the camera phones and taking pics. some were giving thumbs up and waving.
every **** time we stopped for gas or food, we got surrounded by people admiring the car. many said it was their first time seeing one in person. all we wanted to do was get home so we could enjoy the car, but we were on our best behavior since we are basically ambassadors for the car right now. i don't wanna spoil anyone's opinion of the car by acting like a ***** just cuz i wanted to get home and drive the bee so bad!
so, finally we get home. it's about 9:30pm once we get the car unloaded and give it a quick wash. all our friends are dying to see it. we head to a graduation party for a dear friend of mine, then we met up with some friends from a local car club. we hung out in a parking lot kinda back off the street and we still had random people pull in to check out the car. i don't even know how in the hell they even noticed it. this car is like a magnet. everyone takes notice and comes to see. Fbodfather was NOT lying when he said it's like driving a celebrity. it's crazy!
after staying up until 1am showing off the car, we spent all day today doing the Zaino process. washing, claybarring, washing again, ZAIO, Z2. we started to run out of Z2 so we only have one coat on right now. i'm gonna order some more. we treated the leather and shined up the tires too. we came inside to take showers, post up for you guys, and now we're gonna go drive around some more.
here's a few shots for your viewing pleasure.
on the truck:
plastic still on everything:
trunk full of goodies:
first mod:
second mod:
trunk mat:
all Zaino'd up:
stripes will be going on Wednesday!!
TONS more pictures can be seen here:
http://s2.photobucket.com/albums/y17...bee/?start=all
---
"All alone in my funeral home, playing in blood, there's just got to be something wrong with me" -Slayer-
---
Last edited by SunsetHawkSelena; 05-10-2009 at

06:09 PM

.
Congrats....

It has been a remarkable journey
Admin/ChevyBlazerRep
Join Date: Oct 2008
Location: Ocean City NJ
Posts: 4,638
Congratulations
i am just so happy
---
June 2015 MOTM

"I live my life a quarter mile at a time, For those ten seconds or less, I'm free.
NICE...congrats. Looks amazing.
So...
do you like the car?
---
2010-2SS/RS/LS3/IBM/RP6:
ECS-Paxton Supercharger / American Racing Headers & Exhaust / PFADT Suspension / DSS 9" 4.10 Rear / FOR SALE!
Quote:
Powerfreak is the only one who actually understood anything.
you forgot this mod
---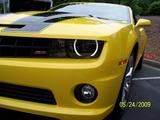 2010 Camaro RS SS LS3 (Bumble Bee) Vin#192 & 8 others made by GM and one Christine
Veteran Member
Join Date: May 2008
Location: Windsor
Posts: 4,533
Congrats! ain't it about time? lol
---
┌∩┐(◣_◢)┌∩┐
oh and here he is tucked away in his private garage
---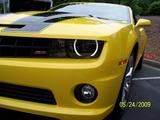 2010 Camaro RS SS LS3 (Bumble Bee) Vin#192 & 8 others made by GM and one Christine
ModernCamaro.com Founder / Former Camaro Disciple
Join Date: Jan 2006
Location: Chicagoland, IL
Posts: 11,842
Awesome! So happy for you guys!
Looks like the journey was a ton of fun!
Cliffjumper misses his buddy.